Blue Ivy Carter and her dad Jay-Z (because we only reference the legendary rapper in relation to her, of course!) had the sweetest daddy-daughter date last night at Game 5 of the NBA Finals between the San Francisco Warriors and Boston Celtics.
The pair sat courtside in the Bay Area's Chase Center, and TBH if you glanced only quickly, you may have thought Blue was her mom Beyoncé for a split second because the 10-year-old was very much giving carbon copy.
Blue Ivy is a spitting image of Beyoncé at tonight's #NBAFinals game. pic.twitter.com/kqVXN0kiIG
Blue looked So! Stinkin! Adorable! with her curly hair draping down her face and those absolutely beautiful hoop earrings. She wore a black leather jacket over a T-shirt that read "Brown Skin Girl," aka the name of the song she and her mom won a Grammy for.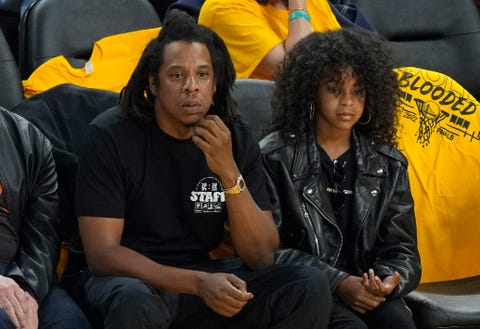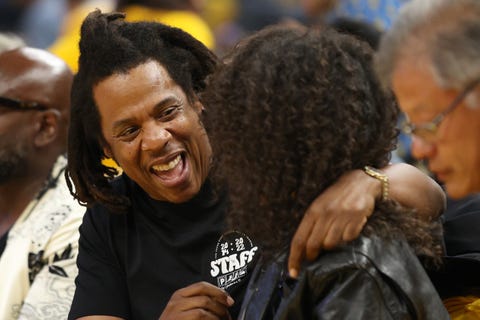 During the game, the announcer acknowledged Jay-Z in the crowd and noted that he's a "24-time Grammy Award winner," but Blue was just like, "Cool, dad" because she, of course, is the real main character here!
To us: Jay Z, the all time rap legend
To Blue Ivy: embarrassing dad pic.twitter.com/yOsIpBUVyz
Blue Ivy being so unimpressed by her VERY impressive parents will always be funny, they taking bout "24x grammy winner" and she like YOU ON MY HAIR DAD😭😭😭
Blue Ivy is definitely giving Sports Girly™️ as it seems going to professional games with her dad is their ~thing~, which is just the cutest. In February 2022, they were sideline at the Super Bowl, and in March 2020 before the pandemic shutdown, they snuggled up courtside to see the Los Angeles Clippers and Los Angeles Lakers battle it out.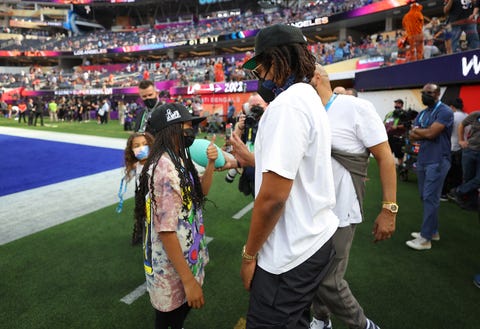 The latter basketball game was also the same time where Blue mustered up all of her little courage to sweetly and shyly ask LeBron James for an autographed basketball. If you do nothing else today, watch their delightful exchange—it'll make you feel things!
LeBron, Jay-Z and Blue Ivy after the Lakers' win 🤝 pic.twitter.com/g58Bw9xJ7U
Sigh. It seems like just yesterday that Beyoncé made her first pregnancy announcement at the 2011 VMAs. Excuse me while I go apply eye cream because Blue Ivy officially has me feeling like a corpse!
Source: Read Full Article