Last night, Camila Cabello and Shawn Mendes hit up the American Music Awards and performed—you guessed it—their hit song "Señorita." The performance was about as sexy as you'd anticipate (read: very sexy), but uhhhhh things got a little awkward when the cameras flashed to Jenna Dewan. Jenna was seemingly caught shading Camila during the performance when she leaned over to her friend and stylist Brad Goreski, rolled her eyes, and appeared to say "She's always extra."
Yup, there's a video:
When @jennadewan wants to say "she's always extra" talking about @Camila_Cabello. Instant karma😂 bet she didn't know she was on tv saying that. #amas pic.twitter.com/v1xW9oeHvd
Jenna shut down the drama on her way home from the AMAs, hitting Instagram Stories and saying "I'm getting a lot of text messages from people wondering if I was shading Camila. No! I love her, I love her so much. I'm such a big fan of hers. I don't understand what that's about but no, I love her, love her, love her."
Brad was also in the car, and said, "Guys, we were bumping and grinding so hard to 'Señorita.' We're obsessed."
So, like, maybe they were talking about someone else being extra and Camila just happened to be on stage? Or maybe the lip readers of the internet got it wrong this time?! Verdict is still out, tbh.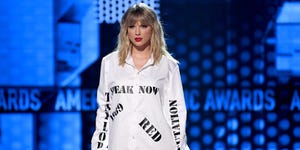 Source: Read Full Article