The timultous friendship between the former 'The Real Housewives of Orange County' co-stars escalated the last few months, though Heather appears to be unbothered by their feud.
AceShowbiz –Kelly Dodd has responded to Heather Dubrow's recent insults. Kelly took to her Twitter account to clap back at her former "The Real Housewives of Orange County" co-star who called her "sad" and "pathetic."
Alongside a link to Page Six's story about Heather's remarks, Kelly wrote on Wednesday, December 1, "If I'm so irrelevant why did your lawyer send me 2 cease & desist letters?" She went on to note, "BTW no one 'heckled' you." Kelly continued, "I just got video of you & Gomer Pyle eating alone at a table for 6. You're the 'sad & pathetic' one. Ask anyone in production. They can't stand you."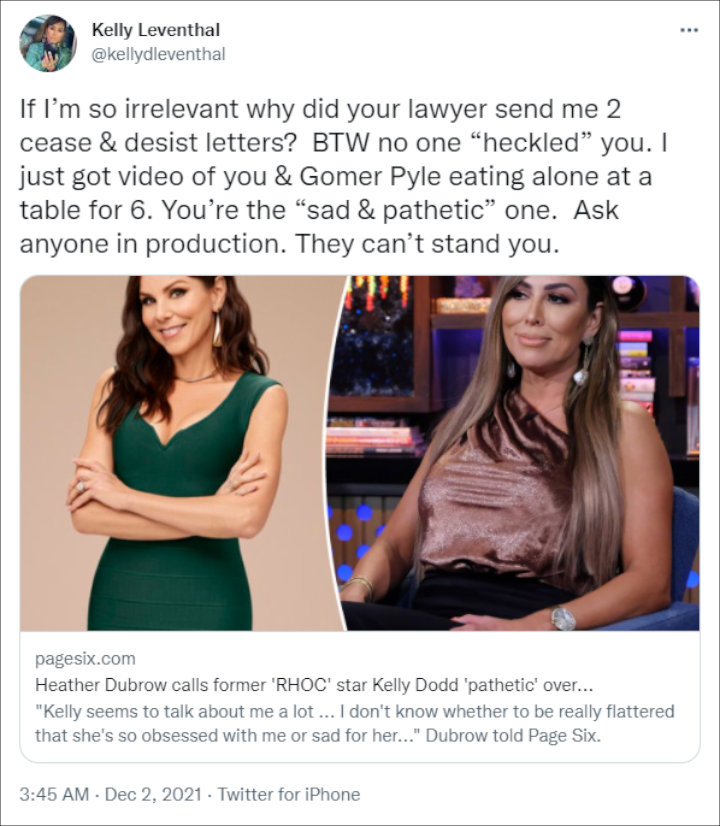 Kelly Dodd clapped back at Heather Dubrow after being called 'pathetic.'
The pair's tumultuous friendship escalated the last few months. However, Heather appeared to be unbothered by their feud. "It makes me laugh," she told Page Six on Tuesday. "Kelly seems to talk about me a lot, so at this point I don't know whether to be really flattered that she's so obsessed with me or sad for her that she has no other content."
"No. 1: You don't burn bridges and No. 2 you have to figure out your next steps," the "Seven Year Stitches" star said. "And I don't think sitting at a restaurant filming former cast members is a viable employment opportunity, and it just seems sad, pathetic."
Back in July, Heather shut down speculations that she was the reason why Kelly was fired from the Bravo reality show. "I think you would know that anyone that thinks they have that kind of power on a show like this is really very misguided," Heather told E! News at the time.
"Having said that, when I left the show I felt like the culture of the show was changing and it wasn't really in line with who I am or something that I felt comfortable in," she continued.
Source: Read Full Article