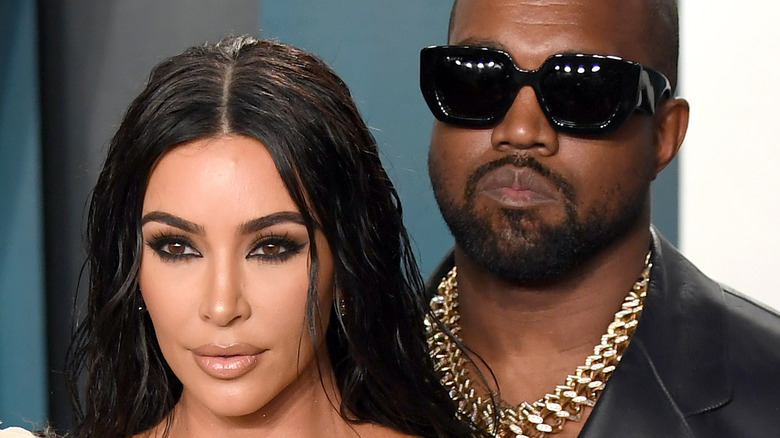 Kim Kardashian and Kanye West made headlines throughout the entirety of their long and tumultuous relationship, with every move they made becoming viral on social media. As many may already know, Kardashian has filed for divorce from West in February 2021 (via The New York Times), so the conversation has shifted to how the divorce proceedings will roll out, specially with the former couple sharing four children together: North, Saint, Chicago, and Psalm. 
Traveling back to the humble beginnings, the duo became an official couple for the world to gawk at in 2012, though they had already known each another for nearly a decade. According to Hello Magazine, it was 2003 when mutual friend, recording artist Brandy, introduced them at a party.
Kardashian explained the meeting on the 10th anniversary special of her reality show "Keeping Up With The Kardashians" in 2017.
"He was recording a song with Brandy, and I was her friend," the SKIMS founder recalled, per US Weekly. "I vividly remember hanging out with him, and then they did a video together, so I'd see him a few times. He was asking his friends, 'Who is this Kim Kardajan?' He didn't know what my name was."
Perhaps West didn't know how to pronounce his future wife's name, but he did know he wanted to be friends with her. And they remained friends for years while dating others. Then, romance blossomed.
Kim and Kanye's first public appearance gets notice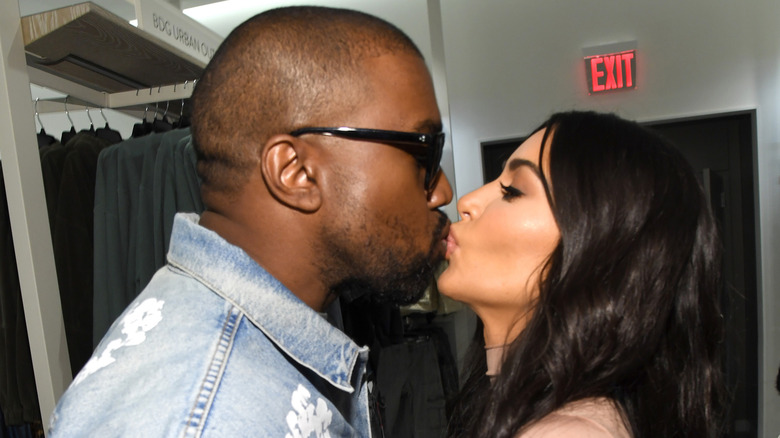 In 2010, Kim Kardashian and Kanye West caught the paparazzi's eye when they met up in New York City while she filmed "Kim and Kourtney Take New York". 
The two were both in other relationships by then. Pop Sugar reports Kardashian was rumored to be dating model Gabriel Aubrey and West had just ended things with model Amber Rose. They both went their separate ways after that photographed encounter and Kardashian even got married — for a short time, at least.
It was also 2010 when Kardashian started dating NBA player Kris Humphries and by 2011, they had tied the knot. Unfortunately, their marriage lasted about as long as their courtship and they called it quits after just 72 days, according to US Weekly. That left the door wide open for West to shoot his shot with the then-rising star.
Kanye and Kim's relationship quickly led to a family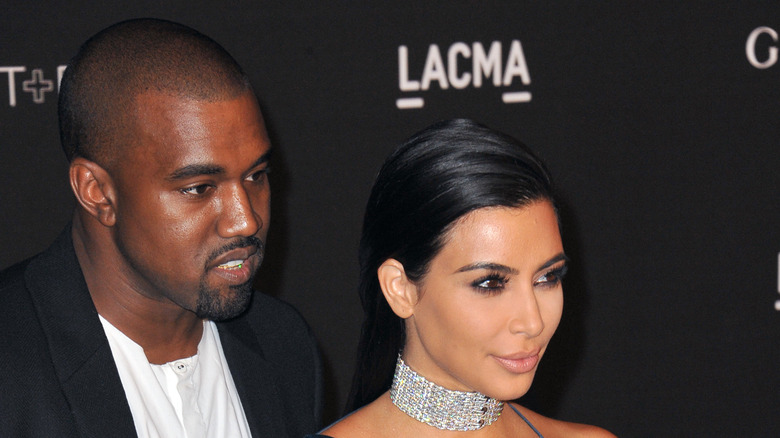 Kanye West was single, Kim Kardashian had just divorced and West released a brand-new song revealing his feelings for his future wife. In April 2012, the pair was once again spotted in New York City and rumors that they were dating ran wild. They finally gave the curious what they had been wanting with a public display of affection in May on the set of a photo shoot for Italian Vogue, according to Pop Sugar.
Things took off from there and the pair began vacationing together as her family approved the relationship. Before they even made their romance public, Khloe Kardashian said of her sister and West, "We've known Kanye forever. He's been a great family friend … I think they're cute together … They're compatible."
By New Year's Eve, something new was beginning for Kardashian and West – parenthood. Kardashian announced the impending birth of their first child, North.
"It's true!! Kanye and I are expecting a baby," Kardashian wrote on her now-defunct Celebuzz blog (via The New York Post). "We feel so blessed and lucky and wish that in addition to both of our families, his mom and my dad could be here to celebrate this special time with us. Looking forward to great new beginnings in 2013 and to starting a family. Happy New Year."
Kim and Kanye got engaged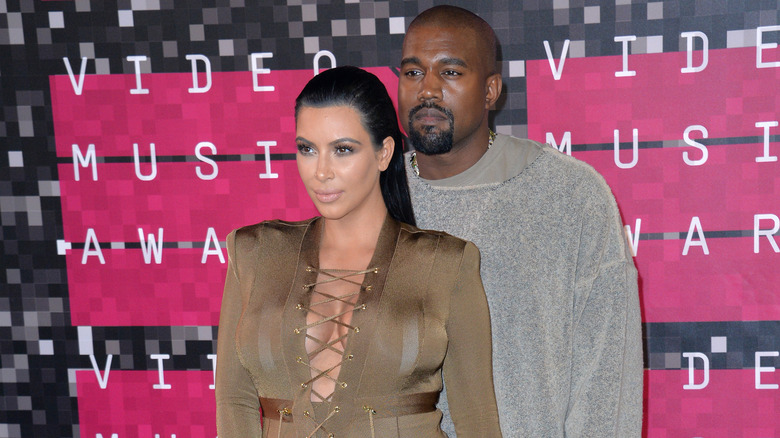 North "Nori" West entered the world a few weeks early and was born on June 15, 2013. She may have been early but she was also healthy and the couple was thrilled. In August, North made her photographic debut when she appeared on Kris Jenner's since-cancelled talk show "Kris". By fall, Kim Kardashian and Kanye West were finally ready to wed.
As Kanye is apt to do, he made a spectacle of the public proposal. The rapper surprised Kim at AT&T Park in San Francisco via the Jumbotron with the words "Will you marry me?" He also presented his girlfriend and the mother of his child with a 15-carat diamond ring (via Pop Sugar).
Being the social media darling that she is, Kim shared it all on Instagram. Alongside a photo of her ring and the Jumbotron, she captioned the snapshot, "Yes!!!"
The following years were a total roller-coaster ride for the growing family
In May 2014, Kim Kardashian and Kanye West tied the knot. The following year, they announced they were expecting their second child. Saint West was born in December 2015, according to Cosmopolitan.
Sadly, October 2016 brought turmoil to the pair when Kardashian was robbed at gunpoint during Paris Fashion Week. The following month, West had to cancel a concert tour and was admitted to UCLA Medical Center for a psychiatric evaluation, per Pop Sugar.
After he was released, there were rumors that Kardashian was looking for a lawyer to divorce West, but 2016 would not spell the end of this couple. Instead, they forged ahead with expanding their family despite Kardashian having troubles during her first two pregnancies (via Cosmopolitan). This time, Kardashian used a surrogate and another daughter, who they named Chicago, in 2018.
According to Cosmo, Kim wrote the following on her website at the time: "January 15, 2018. 12:47am. 7lbs 6oz. Kanye and I are happy to announce the arrival of our healthy, beautiful baby girl. We are incredibly grateful to our surrogate who made our dreams come true with the greatest gift one could give and to our wonderful doctors and nurses for their special care. North and Saint are especially thrilled to welcome their baby sister. Love, Kim Kardashian West."
In 2019, they welcomed a second son via surrogate name Psalm, but the marriage was not to last.
Kim and Kanye's relationship woes become front page news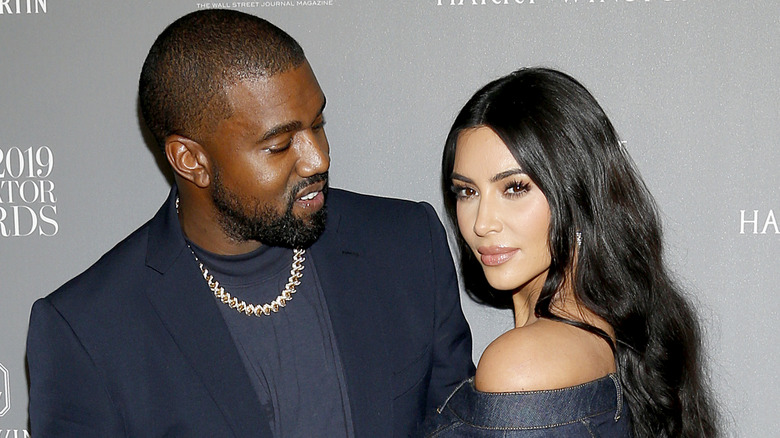 By the time 2020 rolled around, Kim Kardashian and Kanye West had been married nearly six years and share four healthy children, but West raised eyebrows when he became involved with Donald Trump's re-election campaign and then declared himself as a presidential candidate. Rolling Stone reported that West even picked up 60,000 votes between the 12 states in which he managed to get his name on the ballot.
He also went public about problems in his marriage, saying he wanted a divorce and admitting Kardashian almost had an abortion when she was pregnant with North. 
During this time, Kardashian asked the public to give them "compassion and empathy" via her Instagram Stories. West later apologized for the things he said, but it was apparently too late. In February 2021, Kardashian filed for divorce from West (via Cosmopolitan). As of writing, the divorce is not yet finalized. 
Source: Read Full Article