Michael Landon was known for creating television shows the whole family could watch together. One of his most popular shows, Little House on the Prairie, portrayed the life of Laura Ingalls Wilder and her family. Although Landon focused on providing wholesome shows with loving families, he says he didn't grow up in a nurturing environment. According to Landon, he had a traumatic childhood marked by abuse from his mother.
Michael Landon said his mother was 'off her rocker'
During a 1987 interview with Redbook magazine, Landon discussed what it was like growing up with this mother. He described her as mentally unstable and abusive toward him. "She was a stabber, a kicker, and a wacko," said Landon. "She was abusive. My mother would sit on the sofa in her nightgown—she always wore her nightgown when she was upset—holding a Bible, asking God to kill me."
However, Landon said his mother was nice to people who didn't know her well. He said people would come up to him and tell him his mother was "the sweetest." However, he told Tom Ito, author of Conversations with Michael Landon, that he knew the truth about her personality. He recalled the time his mother chased him with a knife.
Michael Landon said his mother tried repeatedly to commit suicide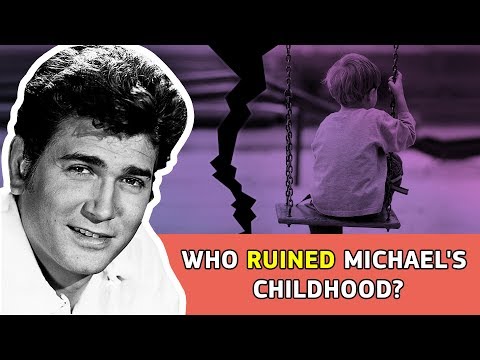 Landon said his relationship with his mother continued to disintegrate. During his final interview with Life magazine, the Highway to Heaven star spoke about his mother's mental illness. He says she constantly tried to commit suicide. According to him, when he was a little boy, he would find his mother with her head in the oven.
"I'm this little boy and I'd walk into the kitchen and find her with her head in the oven and gas turned on," said Landon. "But she always left the kitchen window open and put a pad down to kneel on."
Michael Landon recalled the time he punched his mother in the face
Another traumatic event Landon said he endured was when his mother tried to drown herself. He said he was afraid of water, but he went after her anyway. He jumped into the water so he could try to save her. Landon said he punched his mother in the face to stop her from hurting herself.
"Once she tried to drown herself," Landon told Life. "She waded into the surf." Landon said his mother cried out to him, "I'm going, my son!" Landon sprung into action and went after her.
"I couldn't swim," continued Landon. "I was terrified of water, but I waded in after her. I tried to pull her back, but I was only 10 years old. So, I punched her in the face as hard as I could and kept on punching."
Landon said a wave caused his mother to fall. He then used that moment as an opportunity to drag her out of the water. He said he sat on top of her to calm her down. Not long after that, Landon said his mother's personality changed again. "An hour later, she was burying my sister in the sand and talking baby talk."
RELATED: 'Little House on the Prairie': Michael Landon Recommended a Doctor Karen Grassle Thinks Gave Her Shots Laced With Meth, According to Book
Follow Sheiresa Ngo on Twitter.
Source: Read Full Article