Chris Pratt and Katherine Schwarzenegger are barreling toward their future together, full steam ahead!
Just days after tying the knot in a beautiful, private ceremony on Saturday, June 8, the happy couple is reportedly ready to make things even more official by having a baby together "as soon as possible."
A source close to the pair tells People that the 29-year-old bride feels incredibly secure in this partnership, and recognized there's no better time than now to become a mother.
The source dished:
"She can't believe how much her life has changed since meeting Chris. He was very clear with his intentions from the start, and she has never felt so loved and safe. They both feel so blessed to have found each other, and they can't wait to expand their family as soon as possible."
Awwww! This totally makes sense when you step back and look at how the Guardians of the Galaxy star and his new wife prioritized the idea family pretty early on in their courtship.
Earlier this year, another source told the outlet that the couple made a point of including Jack — Pratt's six-year-old son from his previous marriage to Anna Farris — into their outings as they got to know each other.
"Instead of mostly enjoying solo, romantic dates, Chris' son from early on was a very big part of their dating life."
The deliberate and inclusive move really payed off, as it allowed Schwarzenegger to get closer to her husband's only child. In fact, the insider adds that Katherine truly enjoyed the time she spent with father and son, and their group dynamic didn't bother her at all:
"Katherine never minded that her dates with Chris many times involved a kid activity, like a matinee movie, or going to Disneyland. Katherine is like a big kid and loves doing activities with Jack. She loves that Chris is a dad."
It sounds like the next, logical step for them is to procreate together!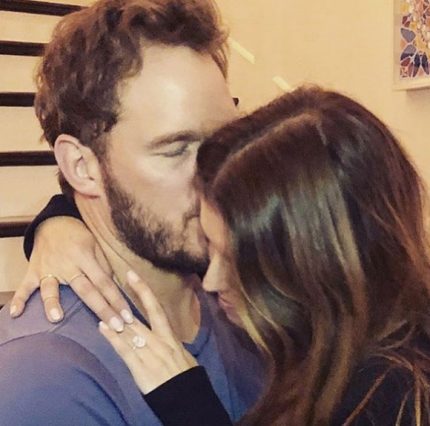 As a matter of fact, the Lego Movie star already gave us a heads up that this was coming back in January, when he sat down for an interview with ET.
He previously admitted to the outlet that his "perfect future" included "lots of kids" and taking a step back from his high-profile lifestyle to actually enjoy quality time with his future children. He said:
"Maybe less time spent working and more time spent enjoying life. I always want to be that guy that works to live, rather than lives to work. I think just a lot of time at the farm and a lot of time catching a lot of fish and seeing lots of sunsets."
We can't wait to see these two create their own most likely gorgeous brood of kids, ha!
We'll keep our eyes peeled for a baby bump, and let you all know as soon as we do.
Thoughts, Perezcious readers? Tell us in the comments section (below)!
Source: Read Full Article