The 39-year-old Griselda rapper, who previously contracted the coronavirus in 2020, asks his online devotees for prayers as he comes forward with his diagnosis.
AceShowbiz –Westisde Gunn has shared an update on his latest health issue. A few days after he was rushed to a hospital due to an emergency health scare, the "327" spitter divulged that he tested positive for COVID-19 for a second time.
Making use of Instagram Story on Wednesday, December 22, the Griselda rapper shared a photo of his test results. "Again pray for me this is getting worst," he wrote on the top of the picture. "First holiday without Chelle and Big Al and now this!!! I don't wish this on nobody."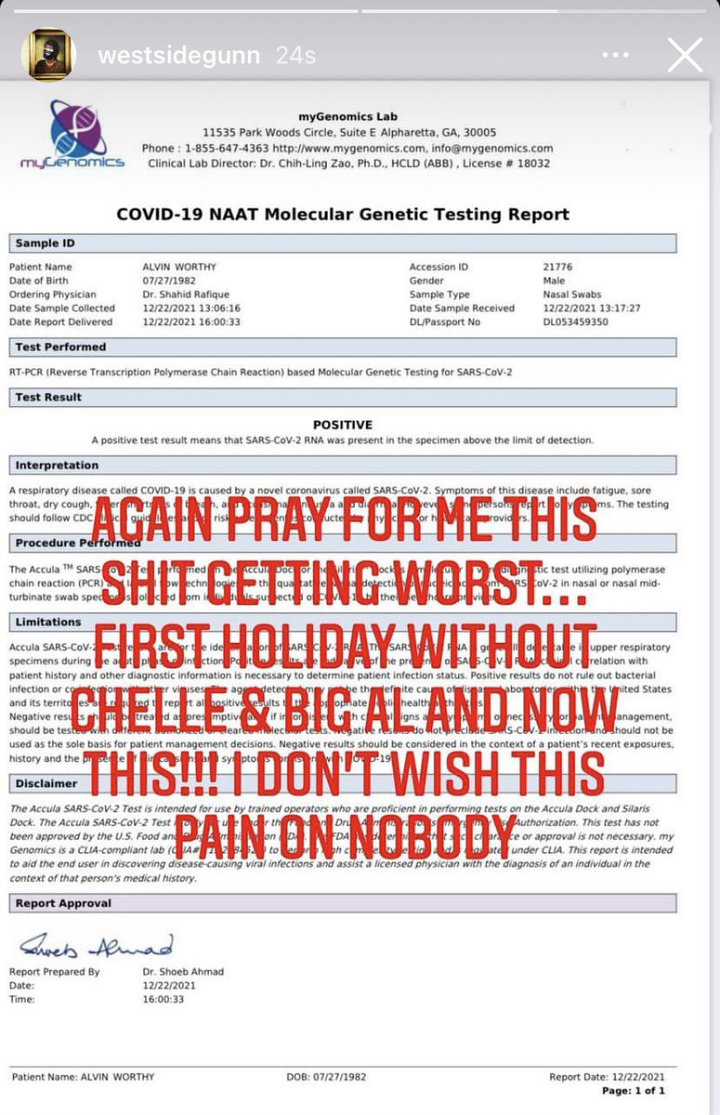 Westisde Gunn revealed he tested positive for COVID-19 again.
Westside first came forward with his medical issue on Tuesday. AT that time, he shared on Instagram Story a photo of him on a stretcher while being surrounded by EMTs. "Pray for me they had to call for emergency. I couldn't breath, it's under control now but otw to hospital. 2x this month," he captioned the post at the time.
The hip-hop star later shared in a follow-up post, "Some rest & I'll be back." He then thanked his online followers, "Thank y'all so much for the love, u know I love u all even the haters!!! Happy holidays… I didn't realize I had 60 points in the 3rd quarter I should've been benched myself, some should be thankful I'm giving y'all a head starts anyways (I'm still talking s**t but if u know me u know I'm humble lol…) Allahu Akbar. See y'all next year #FlyGod Seriously thank u."
Westside previously contracted the coronavirus back in 2020. "I have a confession to Make I'm a Corona Survivor," he divulged on Instagram in April. "I didn't want anybody feeling sorry for me I had to thug it out for weeks I didn't get to see my kids I went to the hospital feeling like I was breathing my last breath the fans and the love I was getting kept me strong."
"I went on Tidal live and Fat Joe live but soon as I was done I was right back on the breathing machine," the 39-year-old Buffalo native continued. "Today is the first time besides the hospital that I'm about to go outside in a month thx to the ppl who did know and held me down now I'm about to go harder than I ever have that s**t tore me up inside I literally thought I was dead designing these clothes and @virgilabloh having my back and @djpremier sending me a beat kept me motivated."
Source: Read Full Article