When the night is still young, a costume change is in order.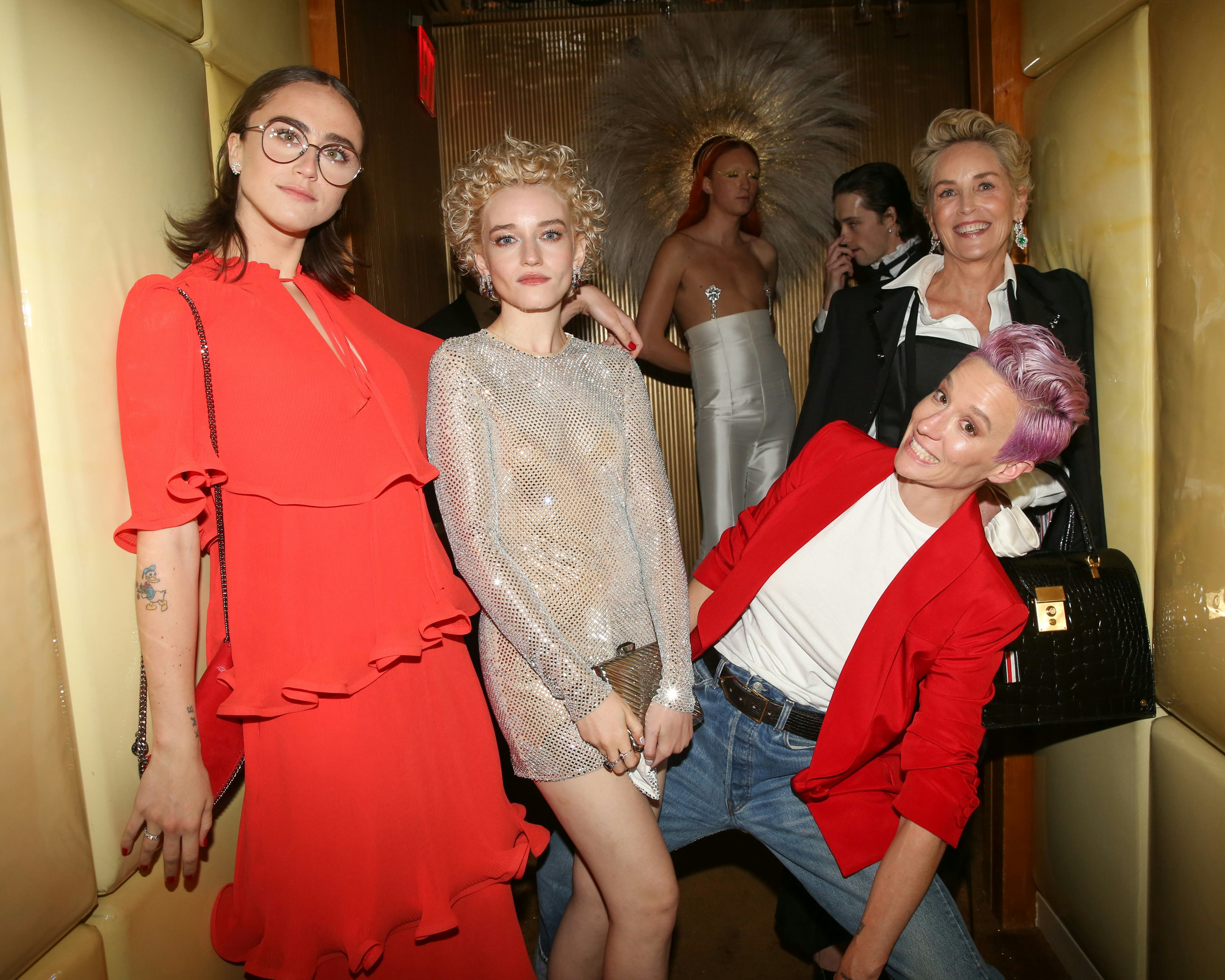 Walking the Met Gala red carpet always comes with momentous expectations and pressure. At least at the afterparty, you can kick off your heels, ditch the heavy jacket, and generally let loose — while still serving looks, of course. Attendees fanned out across the city after the big event for parties hosted by the likes of Kacey Musgraves, Rihanna, Justin Bieber and more. Musgraves party took place at New York's storied Boom Boom Room club, and celebs in attendance wore modified, dance-friendly versions of their red carpet looks, like Julia Garner's mini-length take on her Stella McCartney column dress. Some opted to change into new outfits entirely — Kacey Musgraves changed into a slinky gold number, while Dan Levy went back to black. Here are some of the best looks from the super-exclusive Met Gala afterparties.
Kacey Musgraves kept up the drama in a sparkling gold cocktail dress with a chain halter strap by Ralph Lauren.
Rihanna walked into her afterparty at Davide in a more casual take on the black Balenciaga she wore on the red carpet.
It's official "Hot Girl Fall," but Meg wore a yellow party dress ready for any season to Rihanna's party.
Wither her gimp mask off, Kim Kardashian headed out into the night with Batman-like glasses.
Symone went for playful teddy bears in her vintage Moschino cocktail dress.
Once inside, Billie Eilish changed from her tulle Oscar de la Renta masterpiece into a breezier burgundy ODLR gown with a cape for her co-hosting duties.
Later on for Musgraves's party, Eilish switched into a gothy take on the LBD.
Maisie Williams ditched the skirt on her custom Reuben Selby outfit.
Hailee Steinfeld continued her bombshell transformation in another Iris Van Herpen piece.
Ella Emhoff changed into a comfortable tiered Stella McCartney party dress, while Julia Garner was party-ready in a silver mini number, also by Stella McCartney. Megan Rapinoe changed into jeans, and Sharon Stone wore her signature white button-down and jacket.
Kendall Jenner changed into a dramatic Givenchy cocktail dress with a giant red bow and serious chain hardware fine jewelry.
Mary J. Blige wore a pink cutout gown to Rihanna's afterparty.
Jeremy O. Harris repurposed his Aaliyah-inspired Tommy Hilfiger coat from the red carpet, but wore it over an entirely new Hilfiger outfit to head to Rihanna's party.
Brazilian superstar Anitta changed into something a bit more glittering for Rihanna's party.
Kehlani attended both Rihanna's Met Gala after party and the one hosted by LaQuan Smith in a custom Aliétte pinstripe wool suit (with patches were designed after the singer's tattoos).
The Riverdale star wore a Siriano gown on the red carpet, but then wore an LBD to meet the designer himself at Rihanna's party.
Zoey Deutch slipped into another lilac Versace dress—albeit one of the mini variety—and matching headband to step out to the Met Gala after party.
Rihanna's beau changed into a yellow shearling jacket for her afterparty.
Winnie Harlow switched into a very sheer gown for Rihanna's party.
A$AP Ferg celebrated at Tequila Don Julio 1942 and LaQuan Smith 'Under the Bridge' Met Gala Afterparty.
Taking a break from being a map, Levy changed into all black for Musgraves's party.
Source: Read Full Article