CJ McCollum is a creature of habit. More than that, he's a creature of confidence. The Portland shooting guard and host of the podcast "Pull Up" adheres to a strict regimen in order to conquer a lengthy daily to-do list that features a more diverse set of checkboxes than the typical pro hooper.
His commitment to routine and relentless pursuit of self-improvement, not just in his game but in his mind and spirit, has all led to one thing: success. Through a lifetime of preparation and diligence, McCollum has become a trusted leader among the best of the best basketball players in the world—and still finds time to pursue his off-court passions for journalism and community service. We recently asked him to share a few tips on how to stay sharp and be prepared for anything, and in doing so, bring out your best self at all times.
Learn to embrace a routine
Every morning, McCollum rises at 8:30 and begins the same routine: stretch, practice, steam room, lunch. Even his food stays in its lane.
"If I'm at home, I eat the same thing," he says. "I like fried rice with asparagus, bean sprouts, broccoli, onions, peppers, and some days I go with shrimp, chicken, or beef."
Come gameday, McCollum adheres to another strict rule: "At 1:30 I take a nap," he says, noting he often reads a book before hitting the sack. After he wakes up, he heads to the court and fits in a little more stretching and muscle work before any big games. But his routines don't stop there—even the games within the games follow a process.
Before McCollum shoots a free throw, he dribbles exactly three times, takes a deep breath, holds it, then shoots. Every time. The last bit is a trick he says he learned from a different kind of shooter.
"I read about how snipers sometimes hold their breath before they release, so I wanted to experiment with my breathing as I'm shooting. I've been practicing with that; it's pretty consistent," he says.
This level of preparedness led to McCollum taking home Most Improved Player honors in 2016 and helped him finish the 2016-17 season with a league-leading 91.2 free throw percentage.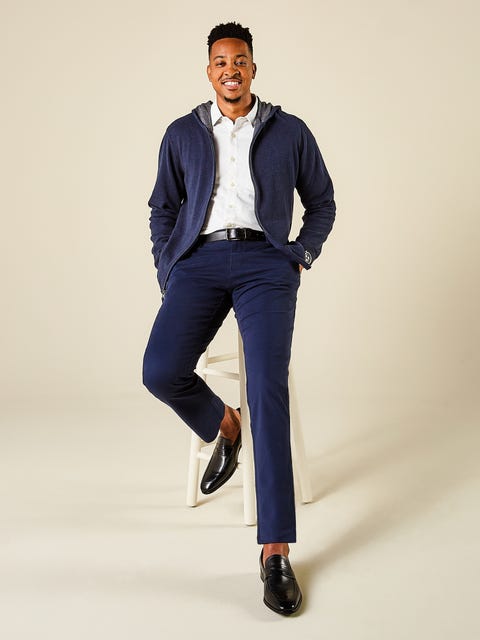 Dockers
Always do your homework
After winning Patriot League Player of the Year twice and leading the Lehigh University Mountain Hawks to their first NCAA Tournament win—a 75-70 defeat of Duke that marked just the sixth time a 15-seed beat a 2-seed—McCollum was considered a lock to become Lehigh's first-ever NBA draft pick. Instead of leaving school early, though, he returned for his senior season to complete his degree in journalism.
Fittingly, he broke his decision in an op-ed for the Sporting News. Since then, he's put his smarts and skills to good use off the court: McCollum has been published in Sports Illustrated, SB Nation, and more. As a podcast host, he continues to value his studious nature and, like he did for four years at Lehigh, always does his homework. This allows him to be prepared to interview high-profile guests and discuss complex topics like paying college players and mental health.
"When you work hard at something, you're just more confident naturally," he says. "I always equate it to when I was in school. When you only kind of studied for the test, you feel unsure, you're nervous, you're anxious, you're not sure what's going to happen. But when you really studied, you know 'I already prepared.' That's always been my mentality. I work hard. And when you do things the right way and work hard, you usually succeed."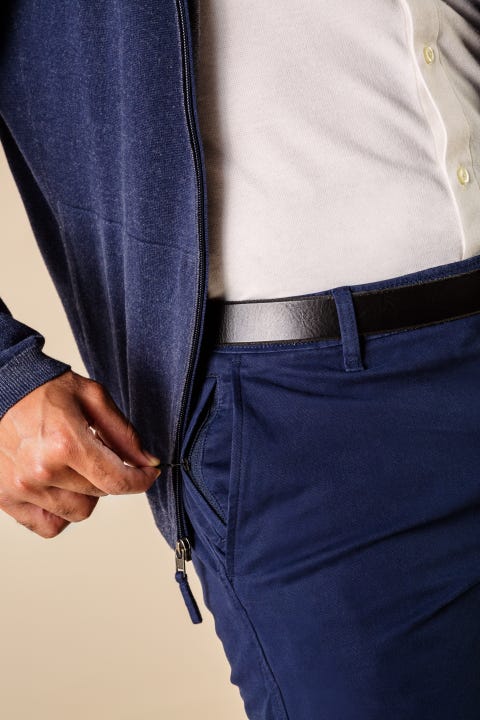 Top: Dockers Men's Full Zip Hoody / Bottom: Dockers Men's Ultimate Chino Pants, Slim Fit

Dockers
Keep going—even when you think you've failed
Even guys like McCollum have bad days. But rather than let it get the best of him, McCollum thrives off of failure, knowing the only place to go is up.
"Continue to prepare. Even when things aren't going your way, even when you're failing and want to give up, push forward, because that's usually when success happens," he says. "Historically, it's happened right before someone wants to give up. There's usually a breakthrough. There's a reason why so many people are successful in this world. It's because they figured out a way to push through when they wanted to quit instead."
Own your personal style
Another key way McCollum stays feeling confident and prepared is by projecting those qualities through his personal style. Though he says he's comfortable in just about anything, he stocks his rotation with a few staple fits, like his go-to Dockers Ultimate Chinos.
"I think there are certain outfits where you know you're really killing it," he says, noting he has a few looks that make him feel like "today's a great day."
Whether it's his look, his workouts, his diet, or his game, for CJ McCollum, preparation equals confidence and confidence equals success.
"It means everything. I'm always trying to be prepared, especially for my job," McCollum says. "In life, it all equates to that preparation, doing things the right way. If you know you need to be somewhere, get your sleep, be on time, and really take advantage of this small window you have of being a professional. I've always tried to prepare. I think that's been good for me."
If it works for him, a little extra preparation could make you the most improved version of yourself too.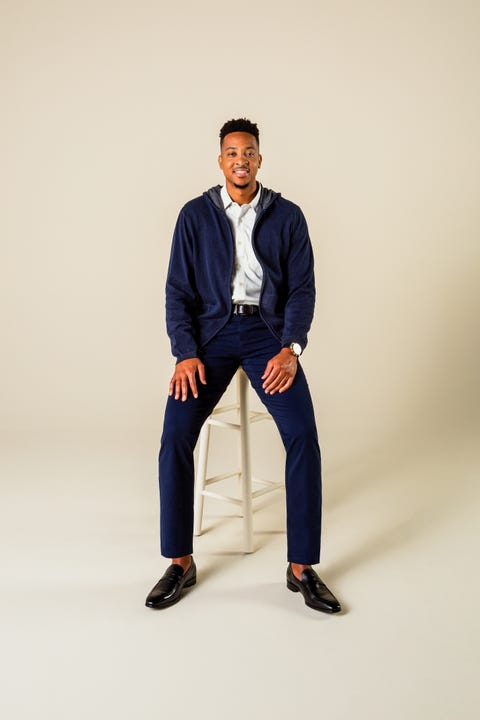 Source: Read Full Article