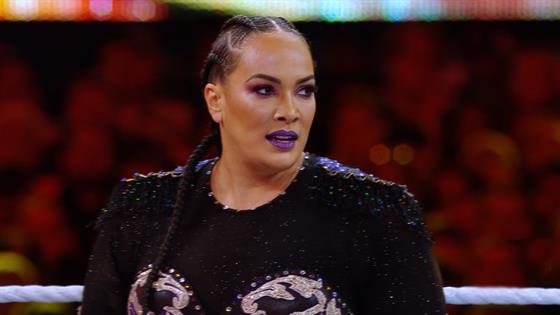 Don't underestimate Nia Jax!
The WWE superstar conquers her double knee injury and fear of heights in this inspirational clip from tonight's new Total Divas, which sees Jax climb up to the squared circle's top rope during a four-way WrestleMania match for the Women's Tag Team Championship title. We only catch a few minutes of the competition in today's preview, and already, things are heating up.
"They are beating the s–t out of Nia," Carmella notes, watching Nattie Neidhart and tag partner Beth Phoenix take turns pummeling their opponent. This is all par for the course in pro wrestling—and rest assured, Nia and Tamina Snuka are dishing it out too—though Jax's torn ACLs do feel a little bit like cause for concern.
"I can't imagine doing that being injured the way that she is," Mella continues. "So, I am really worried about her."
It turns out there's no need for worrying, though—at least not about Nia.
"Definitely not holding back in this match," says the superstar, who recently received a medical diagnosis confirming her injuries and will undergo surgery to repair her ACLs after WrestleMania. "You know, this is my last hurrah for a little bit and I just want to make sure I give everything I have."
From what we can see in the preview clip, Jax takes her wrestling moves to new heights during the event. Seconds later, she and Tamina have the crowd holding its breath as they mount the top rope in unison from opposite edges of the ring.
"As I'm walking up to the top rope, I'm definitely nervous about it," Nia tells the confessional camera. "I'm afraid of heights. So I'm thinking, 'Gosh, what if I get up there and I slip? What if I get up there and I jump off and I don't flatten out?' I have never been more nervous in my entire life."
See Nia flaunt a very convincing poker face from WrestleMania's top rope in the clip above!
Watch a brand new episode of Total Divas Tuesday at 10 p.m., only on E!
Source: Read Full Article