It has been under a year since Princess Eugenie tied the knot with Jack Brooksbank and it looks like she is taking another big step in their relationship. Eight months after exchanging vows inside St. George's Chapel, Eugenie just honored her husband by taking his last name. The move came as a surprise to royal experts as most members of the royal family do not take up surnames.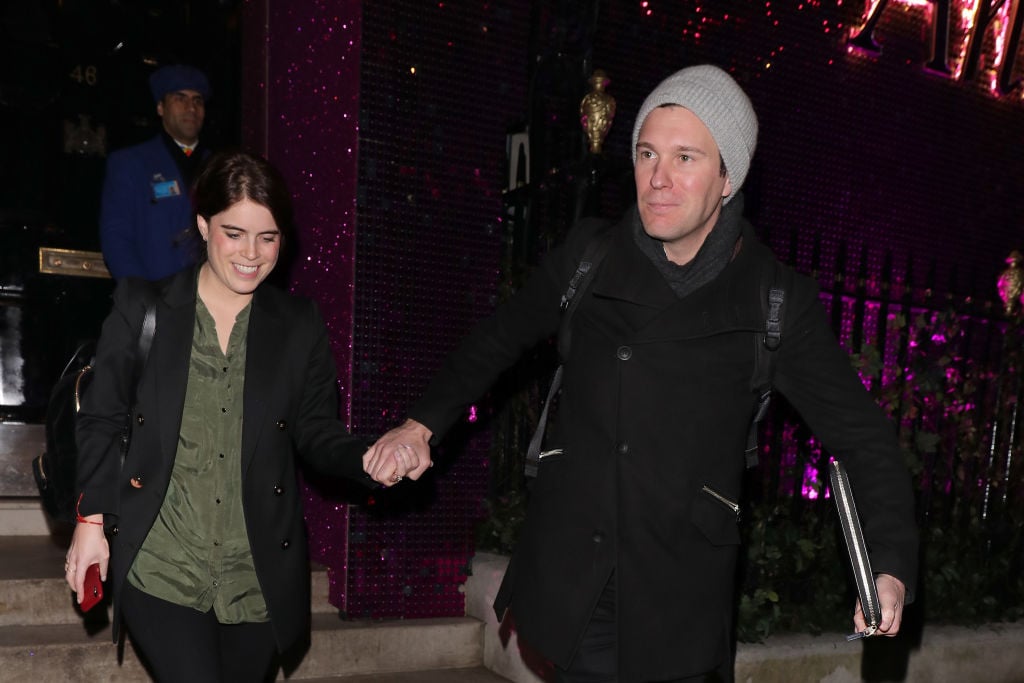 Princess Eugenie debuts new name
Eugenie and Brooksbank tied the knot on October 12, but she only recently decided to take up his last name. Prior to marriage, Eugenie went by either Princess Eugenie or Princess Eugenie of York. She is Prince Andrew and Sarah Ferguson's youngest daughter. Her father and mother's official titles are the Duke and Duchess of York. Eugenie is not expected to lose any of her previous titles by taking on her husband's name.
According to Mirror,a new circular from the courts revealed that Eugenie is now being referred toas Princess Eugenie, Mrs. Jack Brooksbank. Although the decision surprisedroyal experts, Eugenie has been vocal about taking on her husband's surname. Infact, shortly after tying the knot, Eugenie rocked a jacket in public that saidMrs. Brooksbank on the back. Although Eugenie is getting a new title, herhusband will not be honored with a new name.
Brooksbank pops the big question
Brooksbank and Eugenie dated for close to seven years beforethey got engaged. In January of 2018, Brooksbank got on bended knee during avacation to Nicaragua. He asked Eugenie to marry him on the banks of a lakethat is located in front of a volcano. The sun was going down when he poppedthe big question, and Princess Eugenie remembers it as being the perfect nightfor an engagement.
"The lake was so beautiful. The light was just a special light Ihad never seen," Eugene recalled. "I actually said this is an incrediblemoment, and then he popped the question, which was really surprising eventhough we have been together seven years."
Eugenie was thrilled to finally get engagement and addedthat she felt "over the moon." Now that she is a married woman, Eugenie has notbeen afraid to flaunt her romance in public.
In fact, she has regularly shared photos of her andBrooksbank on social media, including some adorable shots of them celebratingher 29th birthday. Between her Instagram posts and taking Brooksbank's lastname, Eugenie is clearly head over heels.
Princess Eugenie rocks new style
Her married life aside, Eugenie has learned a few thingsabout style since donning a questionable hat at Prince William and KateMiddleton's wedding in 2011. During a recent garden party at Buckingham Palace,Eugenie and her sister, Princess Beatrice, rocked some fancy spring looks thatshowed just how much they have evolved in the fashion department.
Princess Eugenie opted for a clean monochrome outfit thatfeatured a Sandro dress. She complemented her look with a white headband, somesilver pumps, and an adorable clutch.
Beatrice, meanwhile, wore a floral-patterned gown thatincluded puffy sleeves. Like her sister, she also rocked a headband, though sheswitched things up with a basket bag instead of a clutch. After the event,Eugenie posted some photos of the party on Instagram and thanked everyone whomade it out. The royal family hosts four garden parties every year, each with adifferent theme and function.
Princess Eugenie and Princess Beatrice enjoy a lunch date
Speaking of Beatrice, Eugenie and her sister recentlyenjoyed a double date with their significant others in London. The siblingswere caught making their way through the city and could not help but smile forthe cameras. Beatrice brought her boyfriend, Edoardo Mapelli Mozzi, along forthe outing and was not afraid to show a little PDA. Brooksbank, on the otherhand, walked in front of the group as they made their way down Portobello Road.
The sisters showed their good sense for style during theouting and looked very chic alongside their men. Eugenie opted for a darkminidress for the trip, complete with a tweed cardigan. Beatrice, meanwhile,donned a navy dress with a leather jacket. Beatrice and Mozzi have been datingsince January, though it is unclear if things are getting serious.
Princess Eugenie has not said anything about taking herhusband's name.
Source: Read Full Article