"To be honest, I won all my money and didn't know the
name of one bloody horse in the East," Paul Makin answered when asked the secret to his computer-based punting success.
Always working frantically for an edge, Makin went from selling newspapers at the Doncaster pub alongside Randwick racecourse to being one of the world's most successful horse players.
Not only did we frequent the Donnie (albeit in different sections: I lived there, he grafted) but we were stablemates at Kensington Public School.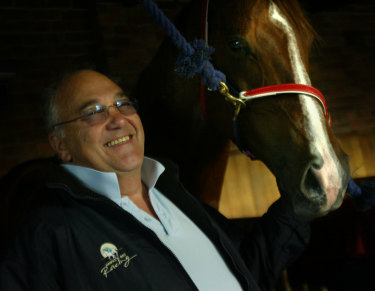 Grafter: Paul Makin with with his champion galloper Starcraft.Credit:Vince Caligiuri
Makin, 83, died recently, and was probably better known internationally than in his home territory.
Yes, his outstanding stallion Starcraft, trained on the Gold Coast by Gary Newham, was a headliner in both hemispheres.
Newham also has the aptly named Winning Ways, raced by Makin's Paulyn's Investments Pty Ltd, engaged in the Queensland Oaks at Doomben on Saturday.
No doubt Makin is the most successful financial graduate of Kensington house of learning – the school, not the pub.
You've got to think long-term and the price must be right.
Sceptics may scoff about the strength of the field. Old media hacks don't enhance the form, but research shows the odd weight-for-age legal performer plus politicians, Cabinet members both federal and state, and one of the famous snake men of La Perouse, Olympian John Cann, who, when 17, represented Australia in the decathlon at the 1957 Melbourne Olympics.
Cann had considerable experience with red-bellied blacks, while Makin had the more arduous task of grinding the odd penny tip out of the Donnie public bar desperates, who considered it a good turn financially skinning victims alive but leaving the toenails.
I had my last conversation with Makin around 12 months ago, and he related how he would sell race books thrown away by those exiting Randwick early to late-comers.
After leaving school I didn't see the more senior Makin until about 30 years ago at a Robert Sangster soiree in Melbourne.
Best company: Paul Makin, right, with trainer Luca Cumani and jockey Scott Seamer at Flemington.Credit:Vince Caligiuri
Makin was working for the cartoonist and racehorse trainer Larry Pickering on Racetrack magazine. He was no world-beater at the time, but later in Hong Kong and Japan he accumulated a bank roll that Crisp, which had no trouble with giant obstacles at Aintree, couldn't jump.
Makin came back onto my radar in 2003 with AJC Derby winner Starcraft, purchased for $(NZ) 42,000 and winner of group 1s in four countries.
Branching out to Europe, he raced the "talented but quirky Irish Oaks heroine Chicquita", named after the great Aussie mare of the early 1950s.
Following his Australian career, Starcraft went to Luca Cumani in 2005, for whom he notched victories in Longchamp's Prix du Moulin and the Queen Elizabeth II Stakes at Newmarket.
Makin also had several horses prepared by Peter Chapple-Hyam.
"We got on really well and he used to start every conversation with, 'Hello you Pommy'. He was a man's man, a typical Aussie," he said.
That was Paul Makin.
Of course Chicquita,  conditioned by Alain de Royer-Dupre, was sold as a brood mare for  £6 million in 2013, certainly a better result for the owner than jumping on trams between Kensington stops pedaling afternoon newspapers.
"Paul was extremely intelligent and, even if I might say, he was one of the most complicated men I have trained for. I still have a wonderful letter he sent me," the trainer explained.
Back to Makin's punting advice: "Don't count your winnings by the day," he explained. "The reality is that it doesn't really matter what you do by the day, it matters what you take home at the end of the year. You've got to think long-term and the price must be right. You won't back all the winners but you'll end up with money. Winning is a long-term project. If you just want to go and enjoy yourself and knock off a hundred or two, that's all very good, but if you want to win you've got to have a professional approach."
Sentiment has no place in the Makin methods, so I can't find Winning Ways today, but I'll give her a cheer in memory of an old Kenso kid.
Source: Read Full Article