Celebrities entertain their fans by singing, dancing, and acting, but when it comes to amusing themselves, sometimes what they need is a good laugh at another star's expense. In fact, pranking is so popular among the glitterati that "That '70s Show" star Ashton Kutcher based an entire reality series on the premise of fooling the rich and famous. But while there have been some pretty epic gags pulled on MTV's "Punk'd," some stars are just natural practical jokesters who don't need the help of a production crew and paid actors.
That being said, having an enormous expendable income and access to special effects teams can come in handy. Take the April Fools' Day joke that Kit Harington played on his wife and "Game of Thrones" co-star Rose Leslie in 2017. She appeared to be on the verge of hyperventilating when he surprised her with a fake severed head inside their refrigerator — and yes, the realistic prop bore a striking resemblance to Harington's "Game of Thrones" character Jon Snow. He's lucky Leslie didn't go all Ygritte on him by turning him into an arrow pincushion.
Sometimes celebrity pranks backfire and require apologies, like when YouTuber Bryce Hall had to tell couple Dixie D'Amelio and Noah Beck that he was sorry for potentially causing a lovers' spat with a prank involving strippers and a blindfolded Beck. It could be argued that some of the other celebs below took things a bit too far, but you've got to appreciate their dedication to their craft.
Ed Sheeran added some kink to Courteney Cox's shopping list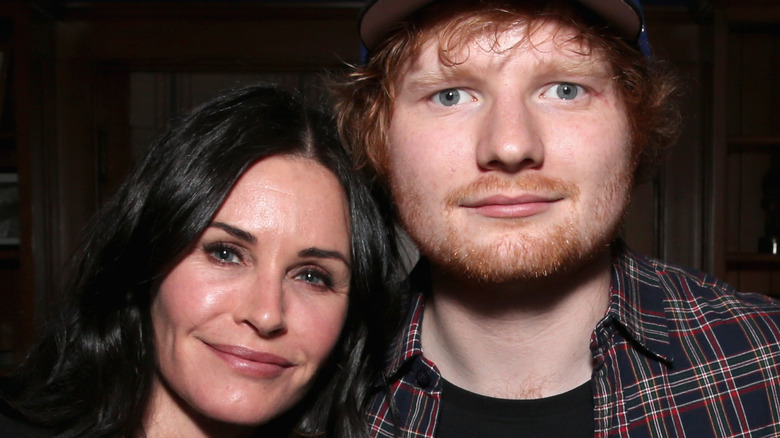 The unlikely friendship between "Friends" star Courteney Cox and musician Ed Sheeran began in 2013 at a party at Cox's home in Los Angeles. Not before long, they became the type of pals who lend their houses to each other: Sheeran told The Sun that he resided at Cox's place rent-free for a few months, but "made the bed and cups of tea and things like that."
"If you're staying round your friends' house, you should treat it like your own," Sheeran said. However, he did do one thing at Cox's abode that he probably was not doing at his residence. During a 2021 appearance on "The Late Late Show," he told host James Corden that Cox has an Amazon Alexa smart device — and you better believe he decided to have a little fun with it. "So she walks out of the room and I go, 'Alexa, order me a gimp mask,'" he recalled. Cox's human assistant later opened the Amazon package containing the BDSM accessory and placed it on her boss' bed.
"Now every time I go back there, I order another gimp mask," Sheeran said. "I hide them in people's bedrooms." He even placed two on a piano that Cox was trying to sell so that potential buyers would see them. But she can't complain about Sheeran's kinky pranking too much — after all, he's responsible for bringing musician Johnny McDaid over to Cox's house on the day she kissed him for the first time (via The Guardian).
James Corden tricked David Beckham with a terrible statue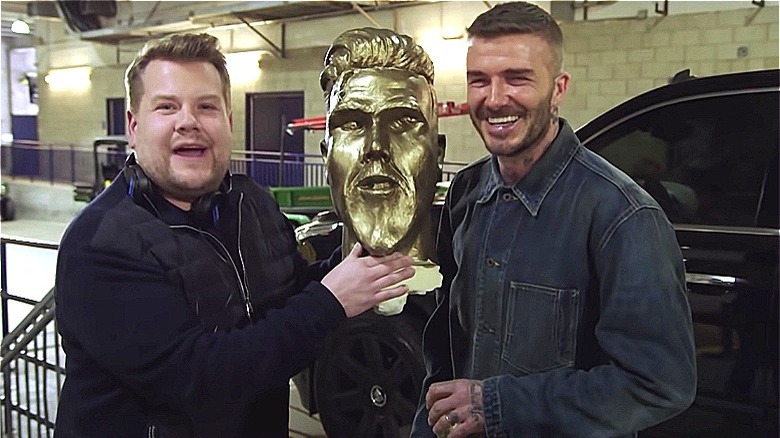 It's not uncommon for talk show hosts to prank their guests to get laughs, but James Corden went to extreme lengths to fool legendary footballer David Beckham on a 2019 episode of "The Late Late Show." Two years earlier, a statue of fellow soccer star Cristiano Ronaldo had become a viral sensation because the effigy wasn't exactly flattering. Beckham was about to have his own statue unveiled at the LA Galaxy's Dignity Health Sports Park, and he thought that he was getting a sneak peek at it. In reality, he would be looking at the, um, interesting sculpture Corden had commissioned. The likeness of "Golden Balls" had a much bigger butt and chin than the real deal — and far fewer teeth.
While speaking to a comedian posing as the statue's sculptor, Beckham opined, "The only thing that's good is the hair." The two argued over what the athlete's bum looks like "in motion," and an incredulous Beckham remarked that it was a good thing his kids weren't attending the unveiling because the statue would likely upset them. "Look how long my arms are. I honestly look like Stretch Armstrong," he stated. When a forklift knocked the sculpture over and broke it into pieces, he almost seemed relieved. "You've probably done me a favor there," the football star told the forklift operator. Beckham was a good sport when Corden revealed the ruse, and he shared a laugh with his friend.
Britney Spears woke Jimmy Kimmel up in the best way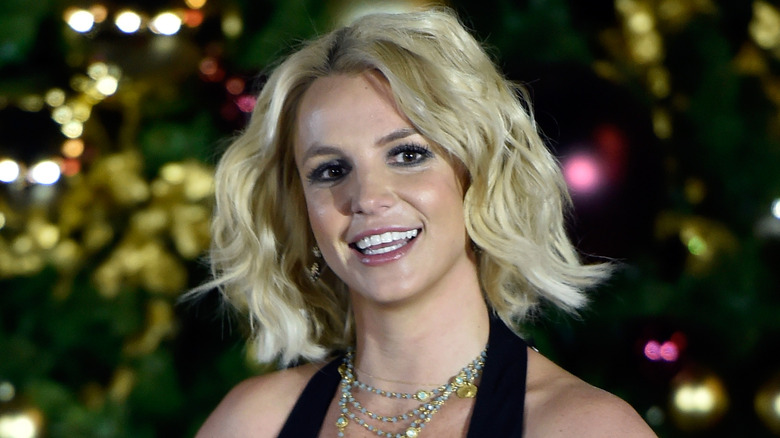 In 2015, Jimmy Kimmel got pranked in a manner that would be every Rihanna fan's dream come true, and it happened while he was dreaming. On April Fools' Day, RiRi showed up at his house at 1:00 a.m. and snuck into his bedroom, where she woke him up by singing "B**** Better Have My Money" and tossing dollar bills on his bed. The following year, Britney Spears did something similar, but she took her priceless prank a step further by having two of the backup dancers stand over Kimmel while he was still in bed. As Spears' song "Make Me…" played, she writhed around on the sheets next to the flummoxed talk show host. Before leaving his bedroom with her backup dancers, she bid him farewell. "Thanks for coming by," he sleepily replied before wondering aloud about where his wife went. Outside of the room, a giggling Spears was clearly elated over how well the prank went. "Sorry, Jimmy!" she shouted before quickly clapping her hands over her mouth and whispering, "There are kids. We've gotta be quiet."
When Kimmel played a clip of the prank on his show, he informed viewers that Spears' new album "Glory" was out. "I don't know why I'm giving her a plug for that. I should be calling the police on her," he quipped. In the coming years, Miley Cyrus and Dua Lipa would keep the practical joke trend going with their own nighttime performances in Kimmel's bedroom.
Justin Timberlake had a confession to make after Dax Shepard made him cry a river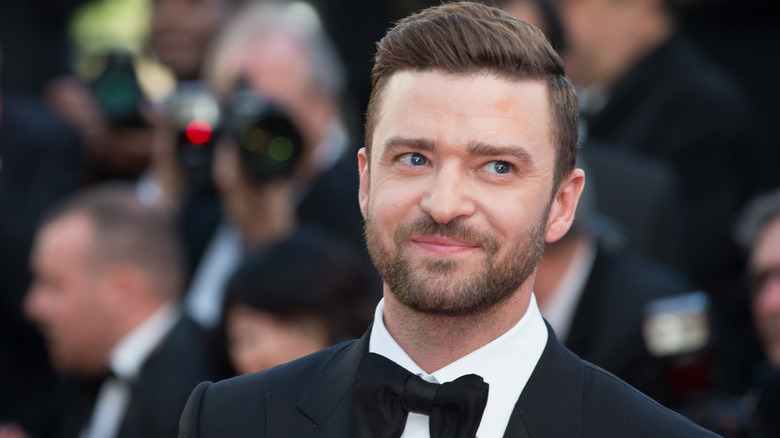 When he was the target of the first-ever "Punk'd" prank in 2003, Justin Timblerlake made the acquaintance of a then-unknown Dax Shepard. The actor was posing as an IRS agent, and Timberlake had no clue that he was acting. Shepard told the "Cry Me a River" singer that he owed $900,000 in taxes and his property was being seized, including his home, vehicles, and even his dogs. Timberlake got so upset that he sat down on his porch steps and cried.
When the two reminisced about their "Punk'd" episode on Shepard's "Armchair Expert" podcast in 2021, the host finally got the chance to tell Timberlake about the impression he left on him after their tense encounter. "What I felt like I learned about you as a person is that you're just a beautiful guy," Shepard said. He recalled observing that Timberlake "got really emotional" when he was informed that his dogs were being taken, which made him feel like he'd "gone too far."
Timberlake explained that the dogs belonged to his mother, and he feared that she would never forgive him if she didn't get to see them again. He also confessed that he had gotten "so stoned" before Shepard showed up at his house, and the entire experience made him swear off weed "for at least a year." He remembered saying to his friend, "I'm so high, man. Is this real?"
Indiana Jones and the lost footage of Steven Spielberg's dominatrix prank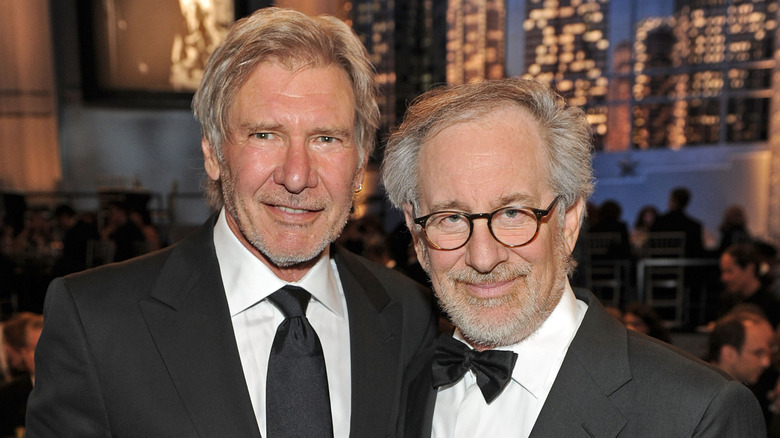 One celebrity prank was thought to be nothing more than internet lore before a grainy video confirmed that it actually happened. In 2011, JoBlo shared footage that was allegedly from director Steven Spielberg's private collection. It was filmed on the set of the movie "Indiana Jones and the Temple of Doom."
Harrison Ford was shooting the scene where he has his own whip used on his back while tied to a sculpture with a menacing skull face. Spielberg reportedly decided to play a practical joke on Ford by having Barbra Streisand stand in for the actor who was whipping him. She dressed for the part by rocking a black dominatrix outfit complete with a leather jacket, biker hat, and aviators. As she whipped Ford, she informed him that he was being punished for the movies "Force 10 from Navarone" and "Hanover Street," as well as "all the money you are going to make on 'Return of the Jedi.'"
According to the JoBlo transcription, one of his "Return of the Jedi" co-stars then swooped in to save him. "Who's that?" he asked as Carrie Fisher leaned against his back. She replied with one of her lines from the "Star Wars" movie: "Someone who needs you!" The group received some negative feedback from director Irvin Kershner, who wanted them to "do it again." Near the end of the clip, Ford joined in on the fun by begging Streisand to "Really hit me!"
Seth Rogen got 'a good massage' out of Paul Rudd's prank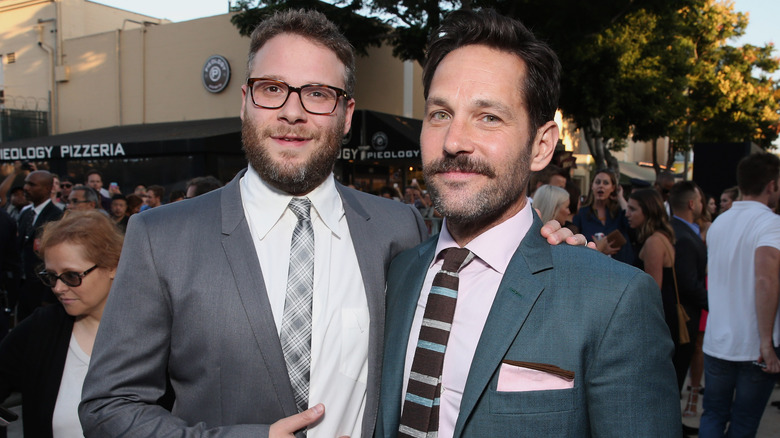 In July 2021, Seth Rogen took to Twitter to reveal that he was on the receiving end of what might just be the kindest, gentlest Hollywood prank ever. He was getting a massage in Las Vegas when he learned that the treatment was really one very relaxing ruse. "When I finished I turned over and to my shock Paul Rudd was massaging me," his viral tweet read. "He saw me go in and convinced the masseuse to let him take over, thinking I'd notice immediately." However, Rogen did not, and his "Knocked Up" co-star stayed committed to the gag by completing the massage.
Rudd later confirmed that Rogen was telling no tales with a brief statement to Mediate. "Haha! It's 100% true," he said. Luckily for the hundreds of thousands of netizens who were captivated by the funny anecdote, Rogen elaborated on the incident during an appearance on "Jimmy Kimmel Live!" He told guest host Nick Kroll that it was "a good massage" but he finally noticed that his masseuse had been replaced when Rudd began excessively grabbing his face. "It shows how little boundaries I have. I wasn't even gonna open my eyes. Like this stranger is fondling my head now and I paid for it, so I might as well let it happen," he said. Rogen's continued cluelessness was just too much for Rudd, who gave himself away by "laughing hysterically" as he gripped his friend's face. 
One Direction's pregnancy scare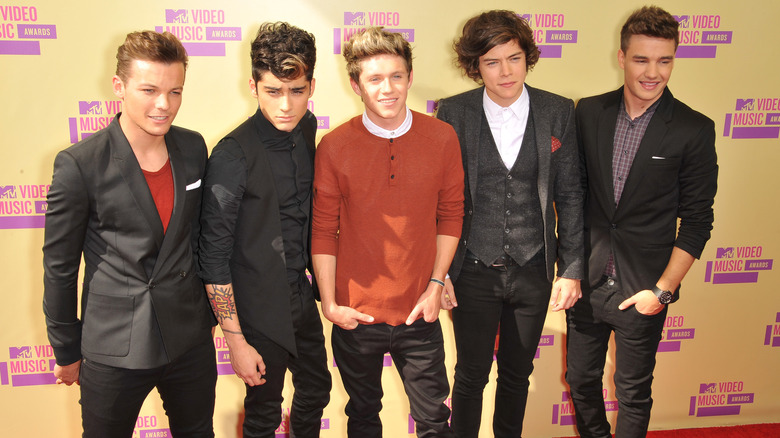 It's hard to believe that a majority of the five members of One Direction are dads now. However, in 2012, two of the future fathers viewed going into labor as a fun way to frighten their bandmates for a Nickelodeon bit, not a momentous event that would change their lives forever. Zayn Malik and Louis Tomlinson enlisted an actor to pretend to be a pregnant Nickelodeon producer. She wore a large prosthetic baby bump to make Harry Styles, Niall Horan, and Liam Payne believe that she was going to give birth soon.
Styles looked horrified when the actor informed them that her baby was "kicking my bladder right now," and she asked the group to sing to calm the nonexistent child down. They obliged with a few shaky lines of "Rock-A-Bye-Baby." When she screamed that she was going into labor, the three guys who weren't in on the joke froze in shock. However, Styles soon found himself on the floor grasping the convincing actor's arms. "Breathe slow, breathe slow," he instructed her. Meanwhile, Horan had fled the scene.
Payne called the actor's husband (er, perhaps someone pretending to be her husband?), and Tomlinson remarked that it smelled as if someone passed wind. Styles couldn't help but laugh and Payne suggested she get in a different position. After the band was told that they'd been pranked, Styles made a confession about his thoughts during the ordeal. "I was actually thinking, it's going to be a great press story: 'One Direction Delivers Child,'" he said.
The GLOW star who pranked Lady Gaga before the fame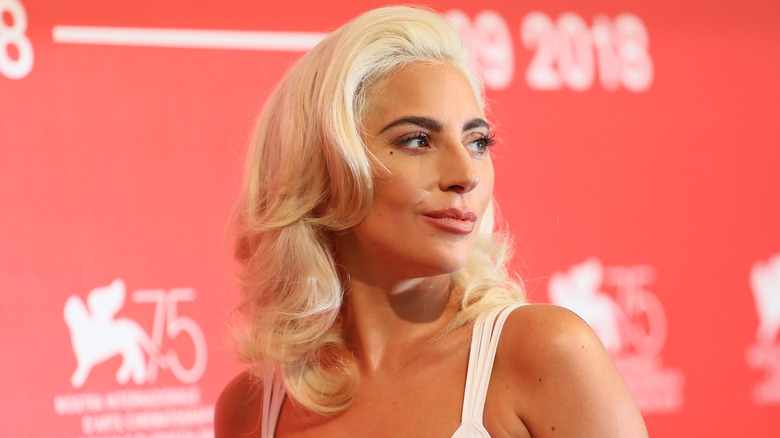 Before Stefani Germanotta dyed her hair platinum blond and became Lady Gaga, the future Oscar winner popped up on an MTV reality series that didn't find the same level of success as "Punk'd." The show "Boiling Points" also involved playing pranks on unsuspecting non-celebrities, and they were designed to make the targets angry and upset. If they kept their tempers in check for a certain amount of time, they won a $100 bill.
In a 2005 episode, the artist now known as Lady Gaga was eating lunch at a restaurant when she had to leave her table. Upon her return, she realized that her food was gone. She informed the waitress, who brought her salad back — with a large piece of trash on top of it. "This is disgusting," an outraged Germanotta exclaimed. "Who puts that in their mouth? Would you put that in your mouth? It has s*** all over it!" When she started cursing at the waitress, the future "Poker Face" hitmaker lost the game that she didn't even know she was playing.
The waitress was actually an actor named Rebekka Johnson, who would go on to play one of the "Beatdown Biddies" on the Netflix series "GLOW." During an interview with MTV News, Johnson spoke about her brush with "The Fame" singer. She revealed that she later became a Gaga fan and said that the pop star was "pretty cool" about the prank after she learned that she'd been set up.
Dwayne Johnson couldn't stop pranking Kevin Hart while filming Jumanji: Welcome to the Jungle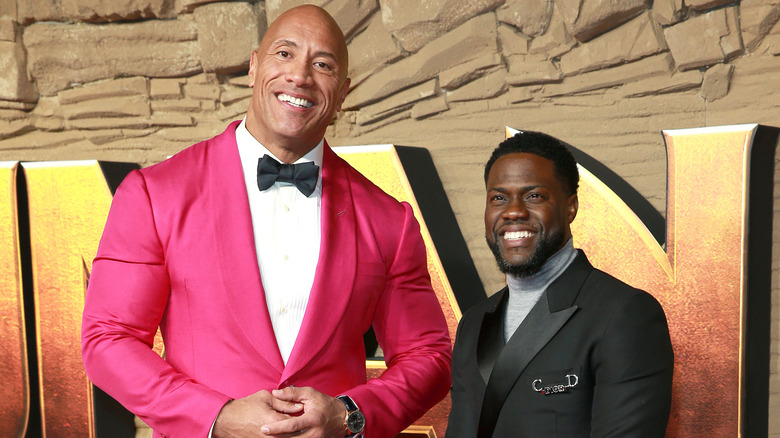 Dwayne Johnson and Kevin Hart are best buds who love to keep each other humble with the occasional lighthearted ribbing. Their friendly feud often plays out on Instagram, where Hart once deemed Johnson a "big bald unattractive flat foot no neck stanky leg truck driving weight lifting tequila drinking no running constipated in the face looking to small pant wearing lovable guy." When the pals were cast in "Jumanji: Welcome to the Jungle," it was inevitable that their jokes would become physical. As The Rock shared on Instagram, he took advantage of the movie's jungle setting and Hart's fear of creepy crawlies by running a stick up the back of the "Ride Along" actor's leg and making him jump. Naturally, the WWE megastar captured the moment for his followers.
Johnson took his pranking one step further by tossing a fake spider on Hart as the two of them lay beside each other in tall grass. He enjoyed a hearty laugh after Hart hopped up and bolted. "When you look closely on the ground – it's literally moving with all kinds of bugs, spiders and centipedes," Johnson captioned the Instagram video of Hart's reaction to the rubber arachnid. "It's Kev's worst nightmare and some of the funniest s*** I've seen when he thinks something is crawling on him." However, Hart didn't enjoy having his co-star use his entomophobia to entertain himself. While speaking to People, he described Johnson's pranking as "out of control."
Kaley Cuoco and Johnny Galecki's prank ended with a big and bloody bang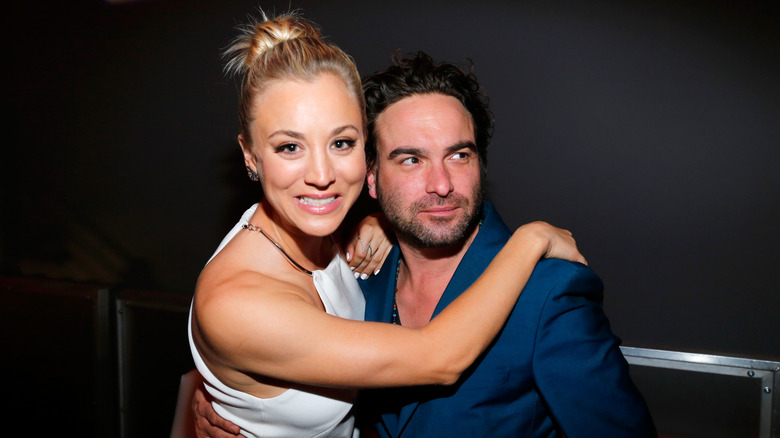 Kaley Cuoco and Johnny Galecki were hoping to leave their co-stars in stitches by pranking them on the set of "The Big Bang Theory," but instead they were left stunned when Cuoco had to get stitches. During a panel at Comic-Con in 2017, Cuoco recounted how she and Galecki decided to stage a fight while filming the episode "The Tangible Affection Proof." Their characters, Leonard and Penny, were having a lovers' quarrel during their Valentine's Day dinner, and the actors decided to take the spat to the next level. Their plan was for Galecki to "fake punch" Cuoco. She even had hair extensions put in for him to yank out and throw.
"So, we did it, and I fell over, and the chair — no one knew this, and I didn't either — clocked me in the head," Cuoco recalled. However, she wasn't concerned. "And I come back up, and I'm like, 'How did it look?'" she continued. She remembered seeing the look on co-star Simon Helberg's face when he saw the extent of her head injury. "And it was my blood just gushing out," Cuoco told the Comic-Con audience as she used her hand to mimic blood erupting from her forehead. She compared the wound to one suffered by a boxer during a fight. It required stitches, and the rest of her scenes in the episode had to be shot with her "facing a certain way" to hide them.
Prince Harry's prank on Prince William was captured in wedding day photos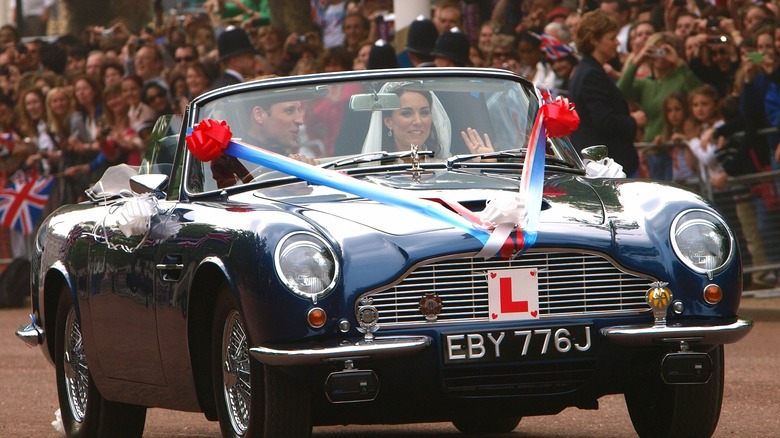 When Prince Harry and Meghan Markle tied the knot, their union created some juicy drama. During their riveting 2021 interview with Oprah Winfrey, Markle said sister-in-law Kate Middleton made her cry before her wedding. In another part of the chat, Harry shared that he and brother Prince William are on "different paths." But once upon a time, the two princes were merry pranksters who viewed weddings as ideal occasions to celebrate their brotherly bond with funny practical jokes.
During an April 2021 episode of the "Royally Obsessed" podcast, etiquette expert Myka Meier spoke about the brilliant prank that Harry played on William when he wed the future Duchess of Cambridge. He affixed a red "L" plate on the front of the blue Aston Martin convertible that the couple left their wedding reception in. In the United Kingdom, the plate designates a driver as an inexperienced learner. Meier described driving around with the scarlet letter as "so embarrassing," revealing that other drivers honk and wave when they spy it. "It was just such a cute moment," she said of Harry's prank.
According to The Mirror, an insider dished that William got his revenge at Harry and Meghan's wedding afterparty at Frogmore House. Harry had previously fallen off a ladder trying to change a lightbulb, and William reminded him of it by attaching a ladder to the back of the newlyweds' getaway car.
How Alex Rodiguez tricked Jennifer Lopez with some help from a pro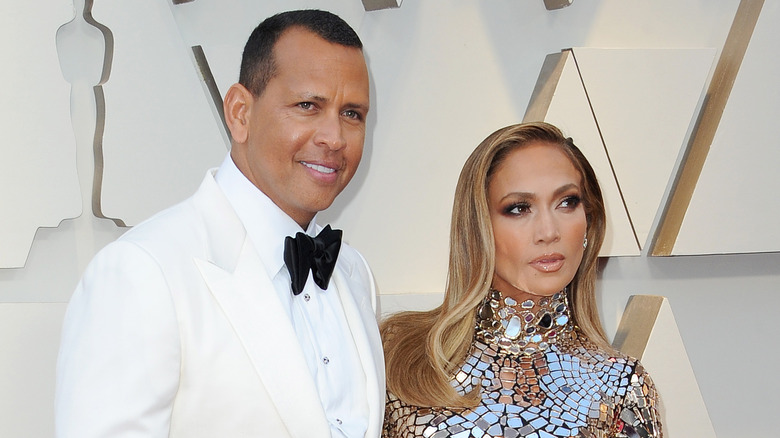 Jennifer Lopez and Alex Rodriguez didn't get their happy ending, but they did make some pretty amazing memories together before Bennifer made a comeback. One of the former couple's most entertaining moments occurred when A-Rod teamed up with renowned mentalist Lior Suchard to play a trick on J.Lo during a dinner party in 2018. If Suchard's name seems familiar, it might be because you've seen him on "The Late Late Show with James Corden," where he's amazed the likes of Alice Eve, Harry Connick Jr., and the Jonas Brothers with his mind-blowing tricks.
On his Instagram page, Rodriguez shared a video of Jenny from the Block being fooled by Suchard. Lopez followed the mentalist as he walked around a large dinner table and tapped her guests on the back. When he snapped his fingers, the diners all slammed their foreheads down in unison. The unexpected reaction startled Lopez and made her cover her mouth with her hand in disbelief. "What?" was all the visibly shaken singer could say. Her guests thoroughly enjoyed her response. After they lifted their heads, they burst into laughter and gave her a round of applause. "We got you!" someone shouted. When Rodriguez first saw his ex with Ben Affleck, maybe he thought she was just playing a revenge prank on him — no mentalist could have foreseen that reunion.
George Clooney and idle time are a dangerous mix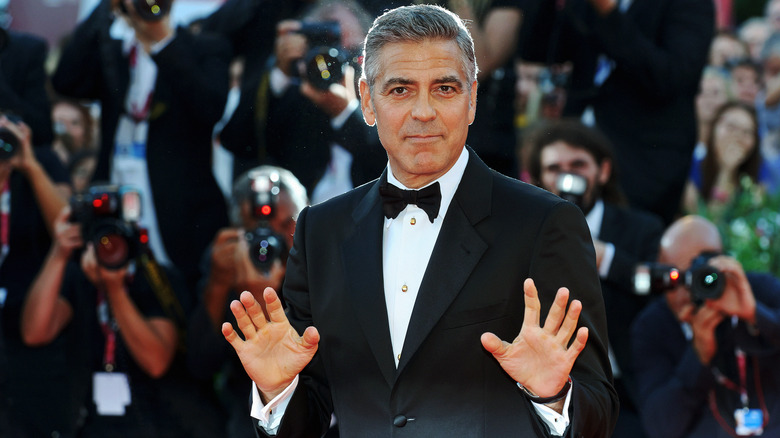 George Clooney is an esteemed actor who has been named People magazine's Sexiest Man Alive twice. He's also a notorious practical joker who is responsible for what just might be the grossest celebrity prank. During a March 2021 appearance on the "Smartless" podcast, Clooney regaled Will Arnett, Jason Bateman, and Sean Hayes with a tale about the time he shared an apartment with Richard Kind and his pet kitten. Clooney was unemployed, and out of pure boredom, he decided to be a good roommate by cleaning the little cat's litter box. Three days later, Kind expressed concern that his kitty was not using it. "And I don't say anything. I don't know why," Clooney recalled. A worried Kind took the cat to the vet after a few more days of this, and Clooney's job got more difficult when it was given a laxative. Still, he said nothing and kept cleaning the litter box for weeks. "And then the lightbulb goes off, and I realize what I must do, which is take a s*** in the cat box," the "Ocean's Eleven" star said.
Naturally, Kind freaked out when he saw the damage. "You have to come see this!" Clooney recalled his friend saying. By that time, he was laughing so hard that he started crying. But once Kind realized what had happened, he didn't find it funny at all. "'I understand humor. Defecation doesn't make me laugh!'" he said according to Clooney. "Just screaming at me."
Emily Blunt and John Krasinski's festive prank war with Jimmy Kimmel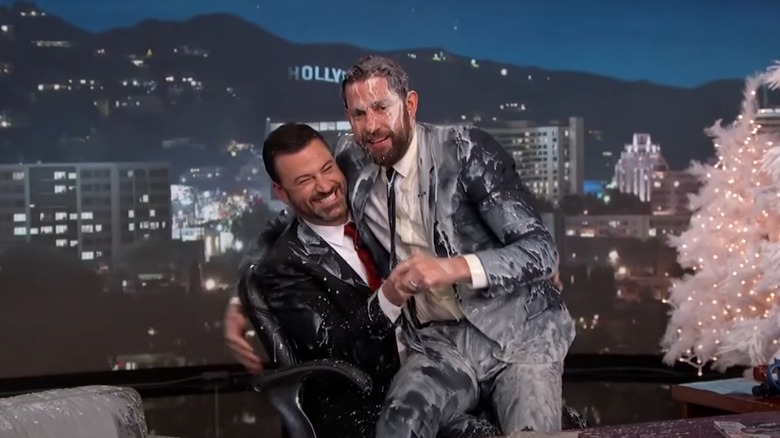 Sometimes celebrity pranksters find formidable famous foes, and things escalate to the point that they become embroiled in an all-out prank war. John Krasinski learned a thing or two about the art of such battles while playing Jim Halpert On "The Office." However, suspending Dwight Schrute's stapler in Jell-O paled in comparison to his real-life antics.
During a 2014 episode of his talk show, Jimmy Kimmel recounted how Krasinski and his wife, Emily Blunt, started a festive "holiday tradition." Unbeknownst to him, the couple entered his home and set up a snowman and Santa Claus light display. Kimmel retaliated by installing a neon insurance sign outside their house, and their next move was to plant a frightening zombie figure in his garden. Not to be outdone, Kimmel placed an enormous inflatable reindeer in the couple's driveway the following year. Instead of giving them a chance to counterattack, he tried to win the war by having his staff gift wrap the couple's entire house.
But an undeterred Krasinski struck back over and over again. In the following years, he gift-wrapped Kimmel's car and filled it with shiny round baubles, surprised him with a pants-less Santa outside his office window, placed a live reindeer inside his bathroom at work, and turned his office into a winter wonderland. Krasinski's efforts were rewarded when Kimmel dumped gallons of eggnog on his head. Will these two ever stop getting on Santa's naughty list?
Source: Read Full Article