Chip and Joanna Gaines are launching a new series, Fixer Upper: The Castle on HBO Max.
MORE: Fixer Upper star Joanna Gaines shares how she 'nurtured' herself back from a place of 'unbalance'
The news comes after it was revealed that their Magnolia Network banner under Discovery+ is moving to HBO Max from 30 September, after a Warner Bros merger between Discovery+ and HBO.
WATCH: Magnolia Network's Joanna Gaines shares adorable video of youngest son saying 'good night' to his plants
Fixer Upper: The Castle will premiere on the streamer on 14 October and chronicles the Gaines' journey through renovating their 100-year old castle in their hometown of Waco, Texas.
They purchased the home in 2019; known locally as Cottonland Castle, the home took three years to renovate.
MORE: Tim McGraw and Faith Hill's lavish Nashville home could rival a palace
"No doubt about it, this is a fixer-upper unlike any other we've ever tackled. Even though we haven't the slightest idea of what it will become, what Chip did know all along, deep in his bones, and what I have learned to see too, is this: If you look past the cracks in the masonry, past the rotted floorboards, past the wilderness taking over the backyard, there is a lot of beauty to be found in this old castle," Joanna shared in 2019.
Their staple show Fixer Upper, which follows them as they renovate houses in Texas, as well as shows like Fixer Upper: Welcome Home, Magnolia Table with Joanna Gaines and The Lost Kitchen will also all move to HBO Max.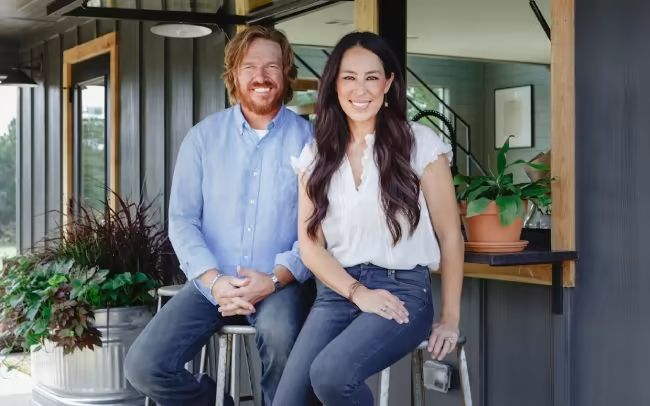 Chip and Joanna run many businesses in Waco
Magnolia Network's social channels shared the news on Thursday, writing: "There's a new way to watch #MagnoliaNetwork! Starting September 30, you can watch @chipgaines and @joannagaines, all seasons of #FixerUpper and select Magnolia originals on @hbomax!"
Fans were over the moon with the news, with many calling the reveal "great stuff" and another adding: "Awesome, because we're ditching cable & I still wanted Magnolia!"
Joanna and husband Chip have five children, Drake, 17, 15-year-old Ella, 13-year-old son Duke, Emmie, 11, and three-year-old Crew.
https://www.instagram.com/p/Cg1y9JzL8lA/
A post shared by Magnolia Network (@magnolianetwork)
They call Crawford, Texas – just a few miles outside of Waco – home, and after becoming the stars of the hit TV show Fixer Upper launched their own channel, Magnolia Network, which replaced the DIY Network.
As well as home-flipping shows, it also features Maine Cabin Masters, Mind For Design, and Beachfront Bargain Hunt Renovation.
The pair have also transformed the Texas city by launching hugely popular businesses Magnolia Home, Magnolia Market, Silos Baking Co, The Little Shop on Bosque, The Shops at the Silos, and the restaurant Magnolia Table.
Source: Read Full Article