The senator and his cozy winter ensemble stole the show at Biden's inauguration
Kevin Nealon, "Saturday Night Live" (1991)  •  "Saturday Night Live" alum Kevin Nealon played Joe Biden in a 1991 sketch about his leadership of the Senate hearings over the confirmation of Clarence Thomas (Tim Meadows) to the Supreme Court. The senators (including one played by future real-life Sen. Al Franken) grill Thomas about his inability to score a date with sexual harassment accuser Anita Hill (Ellen Cleghorne).
NBC
Jason Sudeikis, "Saturday Night Live" (2008-2020)  •  Jason Sudeikis played Biden as Barack Obama's running mate and later as his vice president for eight years — and then he returned in 2020 for sketches set during the Democratic primaries that portrayed the pol as, essentially, a harmless grandpa.
NBC
Greg Kinnear, "Confirmation" (2016)  •  In the HBO movie about the Senate hearings over Clarence Thomas' nomination to the Supreme Court, Kinnear played Sen. Joe Biden, as he questioned Anita Hill (Kerry Washington) over her accusations of sexual misconduct against the future justice.
HBO
Woody Harrelson, "Saturday Night Live" (2019-20)  •  The former "Cheers" star played Biden multiple times during the 2020 election season — and proved surprisingly adept at capturing the Delaware Democrat's rambling speech patterns and tendency to blurt out truisms. ("The vast majority of people in America are not homophobic. They're just scared of gay people.")
NBC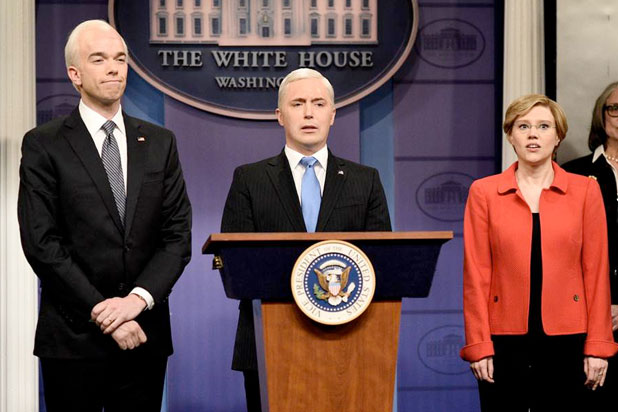 John Mulaney, "Saturday Night Live" (2020)  •  As host of a February 2020 episode, John Mulaney donned a bald cap to play Biden, as he (and other Democratic presidential candidates) stormed a press conference by VP Mike Pence (Beck Bennett).
NBC
Jim Carrey, "Saturday Night Live" (2020)  •  Jim Carrey, an outspoken Biden supporter, took over the high-profile role for the 2020-21 season of "SNL" — bringing his toothy grin and frenetic energy to the portrayal.
NBC
Alex Moffat, "Saturday Night Live" (2020) • For the final episode of the election year, "SNL" cast member Alex Moffat (who's played Eric Trump on the show) took over for Carrey in the cold open, joined by Maya Rudolph as Kamala Harris.
NBC
The president-elect has been a fixture on "Saturday Night Live" and in movies
Source: Read Full Article