If any entertainment event proves the old adage "Ask and ye shall receive," it was the return of Ziva to NCIS. Fans wanted Cote de Pablo back, and they got her.
In the weeks leading up to the finale, the prospect of her return seemed like it could go either way. On the one hand, de Pablo had expressed dissatisfaction with how Ziva had been handled, and she indicated it would take more than a big payday to entice her to come back.
On the other hand, the show had left a window wide open for her to come back, and the teasers the show dropped all but demanded a return. How long the return will stick remains to be seen, but either way, it was one of the best-kept secrets in TV.
How 'NCIS' pulled off Ziva's return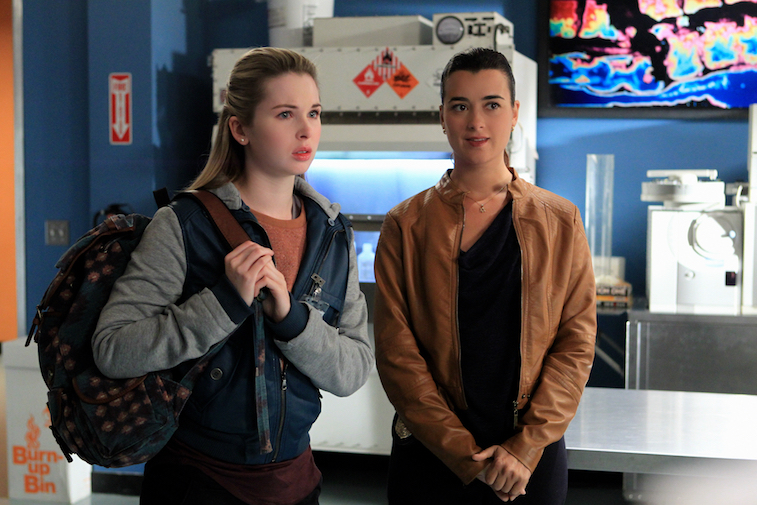 If you heard a giant clunking sound on May 21, it was the sound of millions of viewers chins hitting the ground as the season finale unfolded:
"Hello, Gibbs," Ziva said as she descended the stairs in Gibbs' basement. "No time for pleasantries. You're in danger."
Gibbs' shocked expression must have mirrored the audience's, as he was at a loss for words.
"Well, aren't you going to say something?" Ziva asks, with Gibbs only able to muster a surprised "Ziva?"
The show had revealed that Ziva had died in a mortar attack, although that attack happened offscreen. We later learned that Ellie discovered a note supposedly written by Ziva: "Eleanor Bishop – For the safety of my family, please keep my secret."
NCIS's showrunners orchestrated Ziva's return with a secretive efficiency worthy of the Marvel Cinematic Universe. Just as their actors sometimes only get portions of script pages so that even they don't even know what's going on, NCIS used a similar method. According to Entertainment Tonight, the only actors who knew about her return were Mark Harmon and de Pablo.
The scene was not included in the final script or call sheet, which specifies the day's scenes for production so the actors and crew know if they're needed or not. Only showrunners Frank Cardea and Steven D. Binder had the actual script pages, and a skeleton crew was on the set.
"We are thrilled to share that Cote de Pablo will guest star in the NCIS season 17 premiere this fall as Ziva's warning to Gibbs unfolds," they promised.
Why did de Pablo return now?
The actress, probably working under a non-disclosure agreement, hasn't said why she came back. In the past few years, de Pablo has given few interviews and now, maintaining a low profile is a necessity. Even when she left six years ago, the actress was vague about her reasons.
"As far as my decision to leave, that's a personal thing, and I'd rather leave it at that," she told TV Guide at the time. "The idea of leaving was not something I toyed around with for a long time. It was an overwhelmingly hard thing—at times terrifying."
She later clarified that she wasn't entirely happy with how the show had handled Ziva, saying:
"They were going to send [Ziva] back to Israel and make her a sad, miserable woman. I said, 'What do I leave all the women that are watching and following the show?' And I didn't think it was fair. So, I said, 'Unless someone can really write something fantastic, I won't go back."
So it stands to reason that someone wrote something really fantastic. And perhaps enough time had passed to heal any old wounds. It was also a great stunt to pull for May sweeps.
Sweeps are a priority Nielsen ratings period that the networks consider crucial in making decisions about shows. And it worked out well for NCIS, with the finale rating 11.2 million viewers, which is higher than usual.
Those ratings will surely stay on the same level as fans tune in to see how Ziva's return plays out.
Source: Read Full Article