NBC's The Good Place is one of the best comedies on TV at the moment. Not only do fans love its unique concept and quirky sense of humor, they are also tuning in every week to see the cast members and their delightful characters.
The two main protagonists – Eleanor (Kristen Bell) and Chidi (William Jackson Harper) – are known to have great chemistry on screen. However, do they get along and are they actually friends in real life? Read on below to find out.
Eleanor and Chidi are soulmates who develop feelings for each other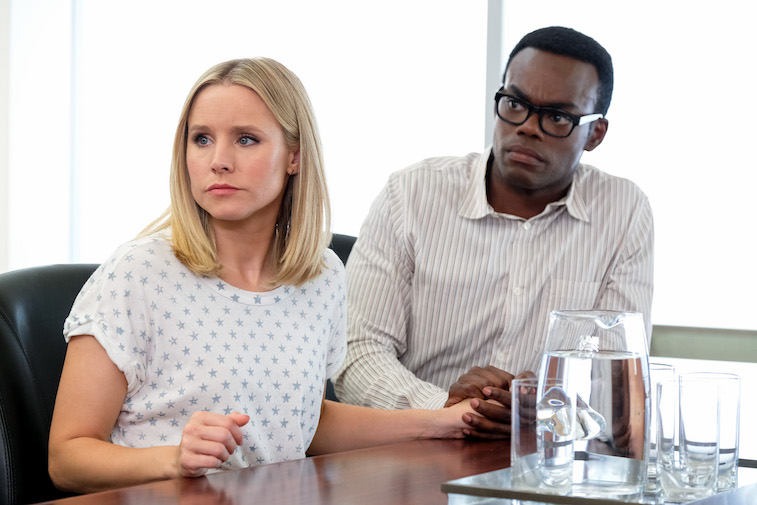 When Eleanor arrives at "The Good Place," she immediately finds out that Chidi is her soulmate for eternity and he becomes the first person to learn about her secret, which is that she lived a rather bad life and is only at "The Good Place" by mistake.
Chidi, an ethics professor, decides to take on the role of guiding her to become a good person so that she would not get kicked out.
Over time, Eleanor and Chidi also develops feelings for each other. Even though they go through the many different reboots where their memories are erased, the two of them always somehow end up finding each other, proving that perhaps they really are soulmates all along.
Kristen Bell and William Jackson Harper get along well in real life
Fans of Eleanor and Chidi will be glad to know that the two actors are not faking their friendliness for the camera. They actually do get along with each other in real life.
William Jackson Harper actually seems to have nothing but compliments for Kristen Bell. Talking with BUILD Series earlier this year, he said:
"She is an entity. She's just this super mom, artist, incredibly smart, incredibly funny – wicked sense of humor… She's so kind and so sweet that it just permeates the entire set… She plays a trashbag, [but] I think she might be, honestly, the best person among us."
The cast members of 'The Good Place' all seem to be friends
It's not just Kristen Bell and William Jackson Harper who get along well with one another. It seems that the rest of the cast are all quite chummy as well.
For example, Kristen Bell and Jameela Jamil (who plays Tahani), apparently like to text each other about fanfictions that viewers write about their characters.
There are also lots of great moments of the cast members hanging out when they are not filming, like the time when Kristen Bell, D'Arcy Carden, and William Jackson Harper try to teach 71-year-old Ted Danson about the latest dance craze.
How long will 'The Good Place' be on TV for?
With the characters of The Good Place being loved by fans everywhere, there's no doubt that many people would like for the show to continue on for a long time. However, creator Mike Schur has shared that the show will not end up being the next Friends.
"This is not a show that is destined to be on for nine years," Schur once said. "It's not a 200-episode, Friends kind of a deal. It's not a hangout show. So, yeah, we've given it a lot of thought, and we have a certain plan, which I think you'll get the sense of in the fairly near future."
Apparently, the cast members already know how it will all end. Kristen Bell revealed on Conan that Mike Schur shared with most of the main cast members the final ending, though it just so happens that, out of anyone, the actress who plays Eleanor herself does not remember at all what she was told.
"I got two kids, guys! That's, like, a lot of work!… Last year, [Mike Schur] was like, 'That's how I'm going to wrap it up. Yeah, that's the right idea.' And it has exited my brain."
The Good Place was renewed for a fourth season back in December 2018 and it will most likely return in the fall of 2019.
Source: Read Full Article