Season 23 of CBS' "Big Brother" is currently underway and viewers are eager to find out which one of the 16 houseguests will take home the $500,000 prize this summer. Among the new contestants is Tiffany Mitchell. According to her CBS bio, Tiffany is 40-years-old (and will be turning 41 while competing inside the "Big Brother" house) and is from Detroit, Michigan. She currently works as a phlebotomist, aka a medical technician who draws blood from patients in clinics and hospitals.
When Tiffany is not busy helping patients or administering blood tests, she says her favorite activities are "entertaining my friends and family no matter what we're doing; working out, reading, and boating." Tiffany appears to be an active individual and enjoys fostering relationships with the people around her. However, she is not to be undermined as a competitor. Keep scrolling to find out more about Tiffany as her time in the "Big Brother" house heats up.
Tiffany Mitchell might have the best strategy for winning 'Big Brother'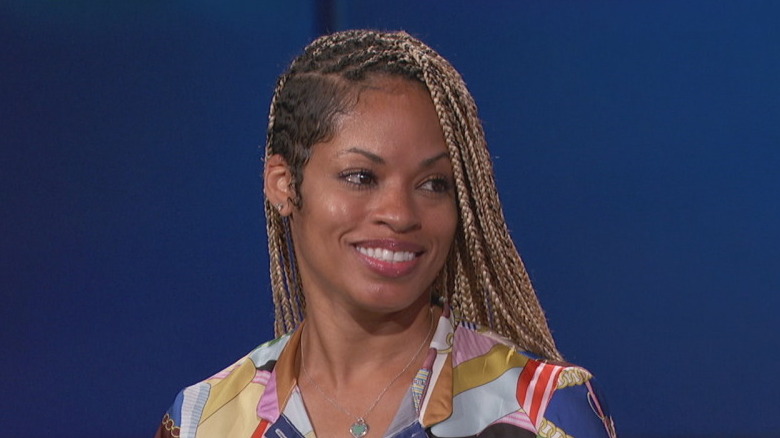 In her CBS bio, Tiffany Mitchell describes herself as "kind, funny, and outgoing," which checks out — look at her big smile. But just because she looks nice doesn't mean she'll go soft on her fellow housemates. In fact, her strategy for winning "Big Brother" might be the best one out of all the cast members. "My strategy for winning the game is to learn as much as I can about everyone else and keep my mouth shut," she explained to CBS.
Tiffany's strategy is very much in line with her personal motto "make it happen," which is not a bad motto to live by in the "Big Brother" house. Like many other housemates, she has watched the show before and one of her favorite moments was when "Dan Gheesling eulogized his own BB funeral to keep him in the house," in Season 14. Sounds like Tiffany came prepared with inspiration! Perhaps, she'll utilize her "alter ego" to play the long game like Dan did during his season.
However, participating in the show has its downfalls. Tiffany admitted the hardest part about doing the show is "being away" from her son, as they've never been "apart for more than a week." In the end, though, it will all have been worth it if Tiffany does win the grand prize, so viewers will have to see how she does in CBS' summer funhouse.
Source: Read Full Article