Architects are used to their clients' unusual requests. But astronomer and engineer Basil Borun asked award-winning architect Peter Stutchbury to take him to the stars without leaving his living room.
Mission accomplished. From Mr Borun's favourite spot in his wheelchair in the living room of his new 130 square metre home in Blackheath, NSW, he has a direct view of the Southern Hemisphere through an ecliptic form, an oval skylight 3.5m long by 2.5m wide tilted 20 degrees to the south.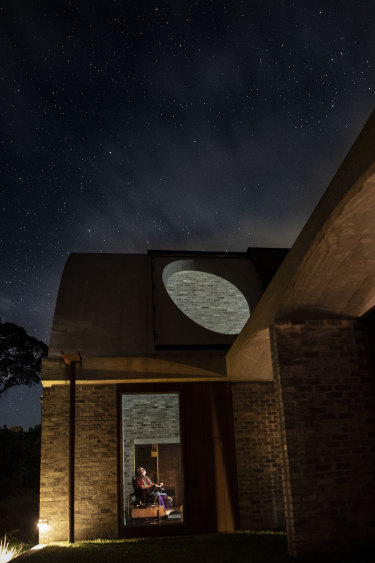 Basil Borun in his home in Blackheath designed by architect Peter Stutchbury. Credit:Wolter Peeters
"I call it a massive skylight, a porthole, a bit of whimsy," Mr Borun said. He loves to open it at night to watch the skies and curse at the ever-increasing numbers of satellites blinking above.
Night Sky, as the house is known, took three years to build.
It took trial and error to find the right size and spot for the skylight so Mr Borun could see his favourite constellations in the Milky Way, including Pavo. Peter Stutchbury Architecture's project designer Fernanda Cabral and builder Mark Tan held cut-outs of prototypes of the skylight up against the sky until Mr Borun was satisfied.
Adding to the difficulty was the location of the skylight in an unusual soaring roof. It is a parabolic vault, a self-supporting structure made of recycled bricks, many of which were picked by Mr Borun. Parabolic vaults are an old building technique, more often seen in medieval cathedrals.
Mr Stutchbury said rarely was a project more considerate of the night than day. "We have put skylights in a building but not in such a prophetic and highly considered way."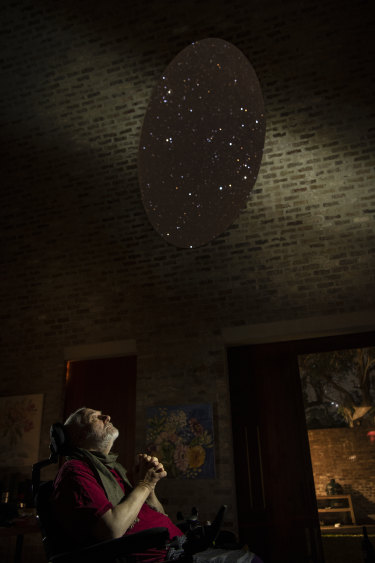 Basil Borun's new home is wheelchair accessible, completely off the grid and angled to the stars.Credit:Wolter Peeters
The home is one of NSW's finalists in the Australian Institute of Architecture's award for best new house.
Mr Stutchbury said Mr Borun's intellect and requirements prompted the firm to go beyond what they had done before.
Other entries for new house of the year included requirements that the architects provide access for rare long-nosed bandicoots through a property, and requests to maximise a special view, and make houses bushfire proof and sustainable. The owner of a house on NSW's South Coast asked for a garden that was snake proof.
Mr Borun's brief to the architect was to "take him on a journey that [he] would not have taken alone".
Diagnosed with Type 2 diabetes in 1999, Mr Borun broke his ankle when he tripped off a step he couldn't feel. That incident resulted in the amputation of his heel. Other bumps and blows have resulted in injuries to his fingers and toes. (An enthusiastic cook, Mr Borun now wears chain-mail gloves).
Mr Borun said "any bump to the feet for a diabetic can be lethal". Reduced blood flow to the limbs means many people with diabetes have neuropathy and can't feel injuries to their extremities.
None of the homes Mr Borun had looked at in the past were truly accessible. Even the best had at least one step for termite, mould and water protection.
"The one rule that I won't have broken is that no step can be larger than 10mm, so I can get in and out without thinking." That's the tolerance of his wheelchair.
The polymath's long resume includes undergraduate degrees in architecture, a triple major in engineering (mechanical, nuclear and aerospace) and a masters in astronomy. He describes himself as a "post‌ ‌modern‌-techno‌ ‌romantic‌". Mr Borun is also an amateur rocket enthusiast and designs them in the shed, building them using 3D printers.
He was inspired by a 19th-century ammunition bunker he once saw in Romania built of raw‌ ‌brick‌ ‌with arches.
"It ‌blew‌ ‌me away,‌ ‌it was massive‌, ‌rooted‌ ‌and‌ ‌solid‌ ‌and‌ ‌buried‌ ‌in‌ ‌the‌ ‌earth.‌ "
He wanted it to be completely off the grid, and was also particular about the palette: raw bricks, concrete, timber and brass.
Night Sky was the most comfortable house he had experienced in his 67 years.
"Now you have to pry me out of the house with a crowbar," Mr Borun said. "The tall ceiling never impinges on my vision. It feels more like a medieval castle than a one-person home."
Mr Stutchbury designed the house so Mr Borun could go from his car to anywhere in his house with a single turn of the wheelchair. The rooms were designed off a long, wide hallway with sliding doors.
"I think this is a really good model for accessible housing," Mr Stutchbury said.
Mr Stutchbury said Night Sky also marked a return to the core of architecture. It was the "original raw house" where function, light and beauty come first and decoration and additions come later.
"With a small house like this, you can put a lot of time into the accuracy of the architecture rather than how the taps are made."
Mr Borun said when he started working with the architects more than four years ago, he knew his mobility was coming to an end.
"There was no point building a house for now. I was building a house for the rest of my life."
The author is a lay juror on the panel deciding the Australian Institute of Architects' NSW Award for new housing. Winners will be announced in July.
Start your day informed
Our Morning Edition newsletter is a curated guide to the most important and interesting stories, analysis and insights. Sign up to The Sydney Morning Herald's newsletter here, The Age's here, Brisbane Times' here, and WAtoday's here.
Most Viewed in National
From our partners
Source: Read Full Article