Rodney Adler is back. The corporate high-flyer turned rogue was jailed for two and a half years for his role in the spectacular, multibillion-dollar implosion of insurance giant HIH, and slapped with a 20-year, ASIC-imposed ban from being a company director.
But that ban expired in September this year, and less than a month later, Adler was back on the horse.
In early October, he became sole director and secretary of Milmark Nominees. Adler told CBD that role was purely helping out a friend, acting more as an executor than company director.
And despite the ban ending, he's got no overwhelming desire to be a company director again.
"Being a director is a big responsibility 20 years ago and today," he said.
"It's just not something I want to be."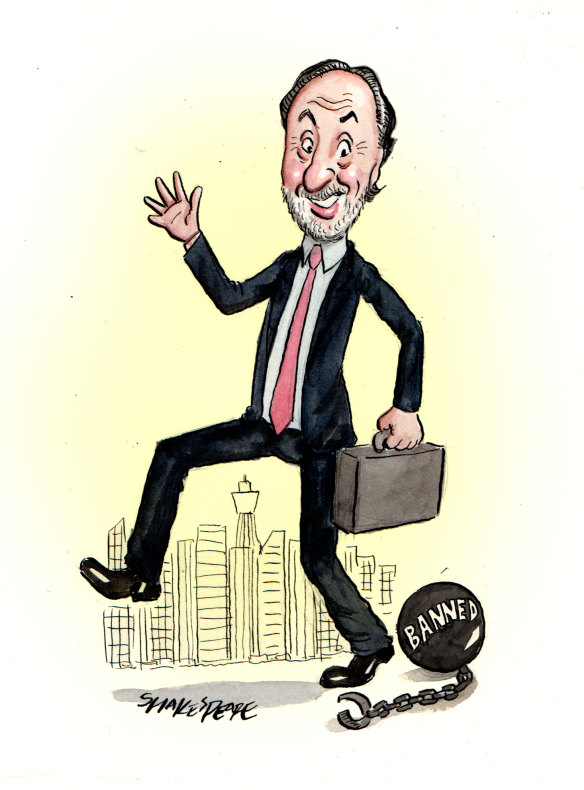 Rodney Adler is back.Credit:John Shakespeare
Since his imprisonment, Adler has rebranded as a venture capitalist, financial advisor and occasional talking head on the state of the economy.
He had a few words of advice for this column, telling CBD that Australia "would be pregnant with opportunity in 2023".
What better time for a reformed jailbird to keep rebuilding his career.
CUMMING GOING
Election officials, journalists and MPs were lucky enough to be treated to a running commentary on Wednesday morning at Spring Street by none other than former MP Catherine Cumming.
The newly dumped upper house MP shared some views with assembled political heavyweights and people tuning into her livestream as the upper house election results were delivered.
Former MP Catherine Cumming in parliament in 2020.Credit:Eddie Jim
When newly minted Labor cabinet member Lizzie Blandthorn was elected to the Western Metropolitan region, Cumming reportedly sledged: "Someone from the west, not!"
And when her own results were announced, spectators say, she emitted a loud "aww", followed with a parting missive to the state parliament press gallery: "You're gonna miss me, aren't you?"
Cumming, who ran for the Angry Victorians Party, won't be missed by some at Spring Street.
She famously proclaimed that Premier Daniel Andrews should be turned into "red mist" at an anti-lockdown rally outside Flinders Street Station in the week before Victoria's poll.
"I joined the Angry Victorians Party for one reason: to make Daniel Andrews turn into red mist," she told the jeering crowd.
"Pink mist" is a description used for a sniper's bullet hitting someone in the head, a particularly disturbing thought considering Cumming was a member of the Army Reserve for 10 years, where she was a medic.
"In the army we would call it pink mist but I want him into red mist. Give anyone here in the army a job to blow someone up and they will."
It seems now that Catherine Cumming is, finally, going.
SUN SETS ON SMITH
Disgraced former Sky News and 2GB host Chris Smith has quickly refurbished his social media profile, after being sacked by both organisations following allegations he made lewd comments and inappropriately touched a woman at a Christmas Party last week.
Chris Smith has hastily changed his social media profiles after losing his jobs.
Smith's Facebook account now lists him as "divorced", amid reports his celebrity nutritionist wife Susie Burrell walked out on him after the news broke. Just like Smith's ex-partner did the last time he got in trouble for inappropriate behaviour at a Christmas party 13 years ago. Looks like the couple won't be leading that Mediterranean cruise next year.
Smith's gigs at Sky News and 2GB are now listed as "former" jobs, and a new profile picture, without any likes so far, is up. Gone too is the cover photo featuring Smith in a Sky News studio, replaced by a picture of a sunset. A visual representation of a too-long career in its twilight, perhaps?
But given Smith has twice bounced back from similarly career-threatening scandals, maybe he believes otherwise. His Instagram suggests he might, where he just changed his handle to @thenewchrissmith.
A changed man? We don't buy it.
MEGA CHANGES
This masthead reported last week that ABC managing director David Anderson intended to hire a chief content officer and migrate regional reporters to the news division as part of a major shift in the way the national broadcaster operates and commissions programs.
Judith Whelan, who was recently promoted to editorial director from her role as head of regional and local, sent an all-staff email to regional and local reporters singing their many praises and achievements before they are all absorbed into a team some insiders are calling the "central mega News Division".
"Of course, there is a part of me that is sad to see the end of what we know as Regional & Local," Whelan wrote to staff. "It seemed a slightly odd collection of teams and programs and content when we were brought together in 2017, but what a team we became!"
The email, which also promises context around the changes, left some still confused about how exactly reporting lines and content would be impacted.
The Morning Edition newsletter is our guide to the day's most important and interesting stories, analysis and insights. Sign up here.
Most Viewed in National
From our partners
Source: Read Full Article