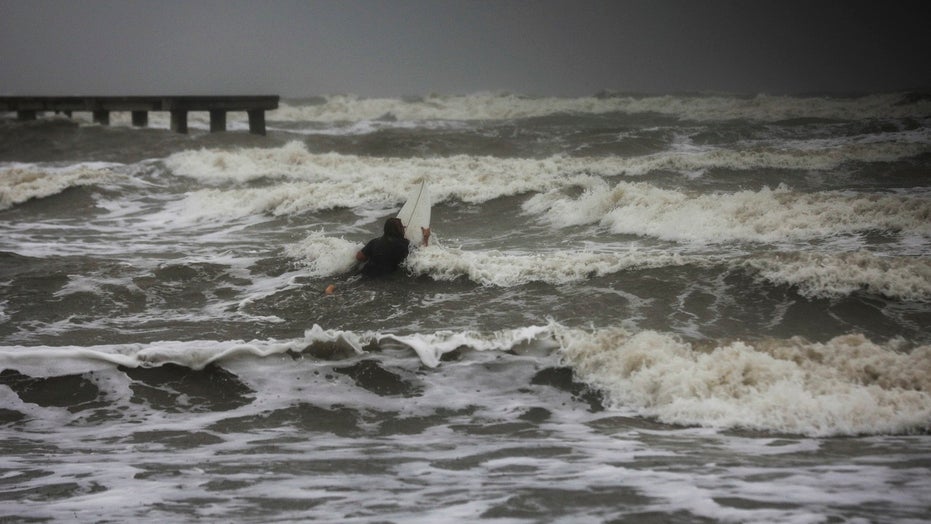 Hurricane Nicholas makes landfall near Galveston, Texas
Fox News senior meteorologist Janice Dean has the latest details on Nicholas, which weakened to a tropical storm early Tuesday.
Nicholas was located approximately 15 miles south-southwest of Houston on Tuesday morning, moving toward the north-northeast near 8 mph.
It was downgraded to a tropical storm early Tuesday after making landfall at around 12:30 a.m. CT along the Texas coastline on the eastern Matagorda Peninsula as a Category 1 hurricane.
The National Hurricane Center warned that Nicholas could cause life-threatening flash flooding across the Deep South over the next couple of days, and at 7 a.m. CT it had maximum sustained winds of 60 mph with higher gusts.
Tropical storm-force winds extend outward up to 125 miles from the storm's center.
Nicholas is projected to move slowly to the northeast and then eastward over Louisiana by Wednesday.
"Little motion is anticipated on Thursday," the hurricane center wrote in a Facebook post.
Nicholas is forecast to become a tropical depression by Wednesday, however tropical storm conditions are anticipated across Texas coasts through Tuesday and along the Louisiana coast by later this morning.
"A tornado or two" will also be possible through Tuesday along the upper Texas Coast and southern Louisiana.
A storm surge warning is in effect for San Luis Pass to Sabine Pass, including Galveston Bay; a tropical storm warning is in effect for San Luis Pass, Texas to Cameron, Louisiana; and a storm surge watch is in effect for Sabine Pass to Rutherford Beach, Louisiana.
A combination of a dangerous storm surge and the tide – impacted by the tropical storm – is predicted to cause normally dry coastal areas to be flooding with 3-5 feet from Sargent, Texas, to High Island and Galveston Bay.
Nicholas is also expected to produce additional rainfall of 5-10 inches from the upper Texas coastal area into central and southern Louisiana, far southern Mississippi and far southern Alabama.
Isolated storm totals of 20 inches are likely across central to southern Louisiana.
"Life-threatening flash flooding impacts, especially in urbanized metropolitan areas, are possible across these regions. Widespread minor to isolated major river flooding is expected across portions of the upper Texas Gulf Coast and southern Louisiana and Mississippi," the hurricane center wrote.
Nicholas was the 14th named storm of the 2021 Atlantic hurricane season.
Elsewhere over the Atlantic basin, the hurricane center was monitoring a tropical wave and a well-defined low-pressure system located around 400 miles southeast of the southern Cabo Verde Islands.
The Associated Press contributed to this report.
Source: Read Full Article